Posted Friday, September 12, 2014
Little Boats
5391
This photograph is from a small collection I am calling, "Little Boats." Colorful water reflections are a powerful element that can give photographs a great deal of visual impact. Here, the warm intensity of a setting sun paints a shimmering display of orange and yellow highlights upon the water. A vivid backdrop that accentuates this overworked little dinghy.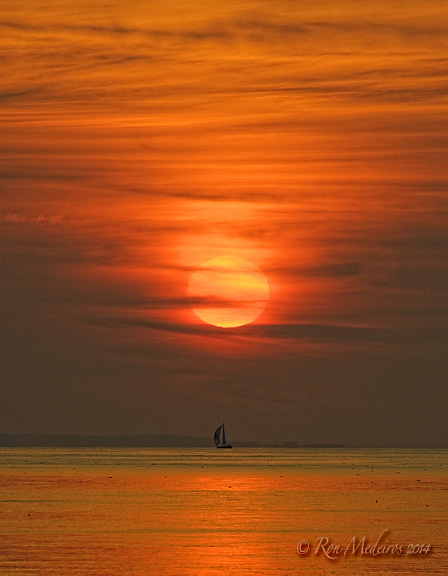 Sailing Under The Sun
Rockland, Maine.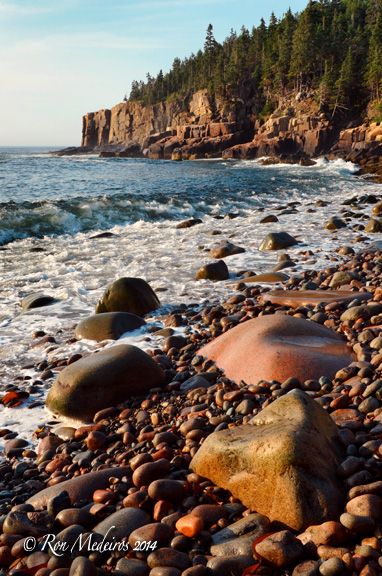 Otter Cliff, Acadia National Park
Click to enlarge
As demonstrated in this photograph, I prefer to render the water as water, rather than the overdone long exposure "fog" look present in too many sea scapes today (water should look like water). I like how this image gives the viewer a feeling of standing on the shore in person. A photograph should look like an open window that draws the viewer into another place.
  Posted Tuesday, September 2, 2014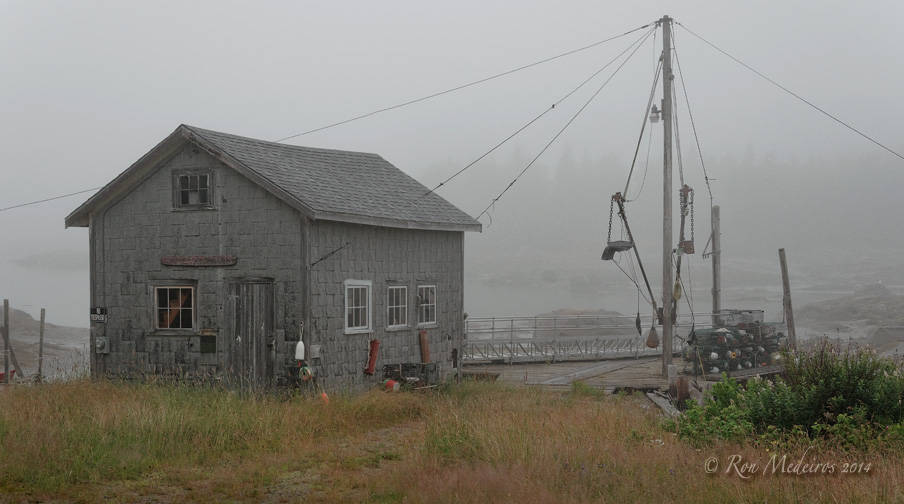 Morning Fog, Stonington, Maine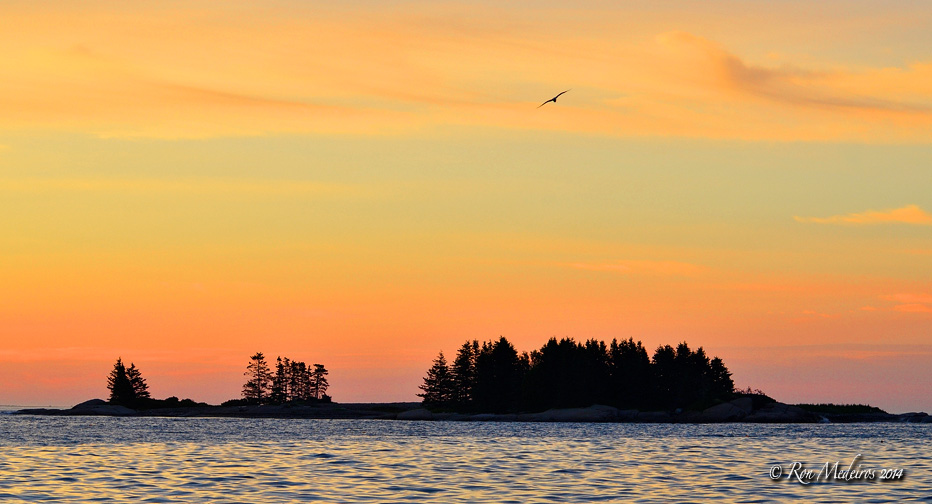 Morning Sky, Corea, Maine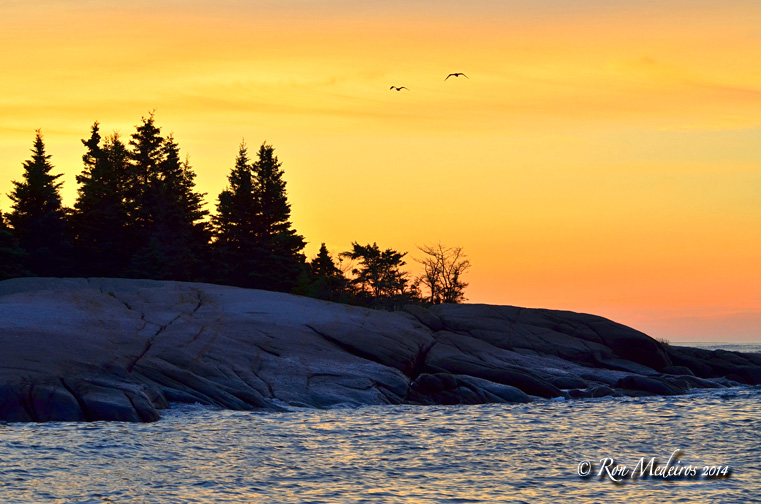 Light Of Dawn, Corea, Maine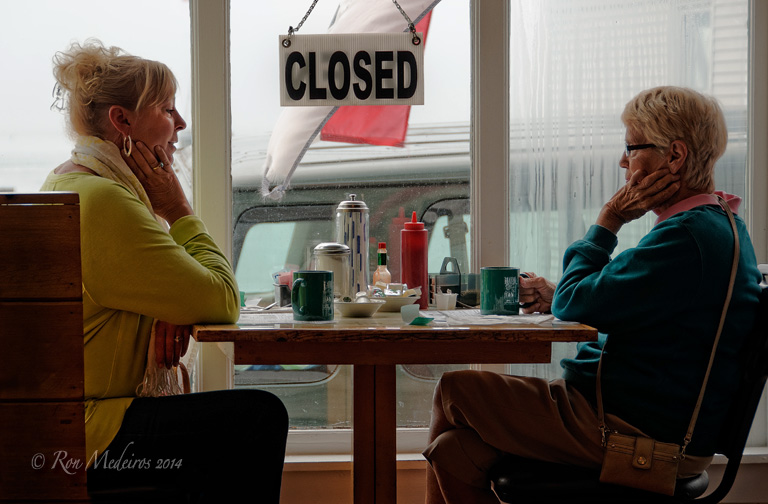 Over Coffee
The Harbor Cafe, in Stonington, Maine.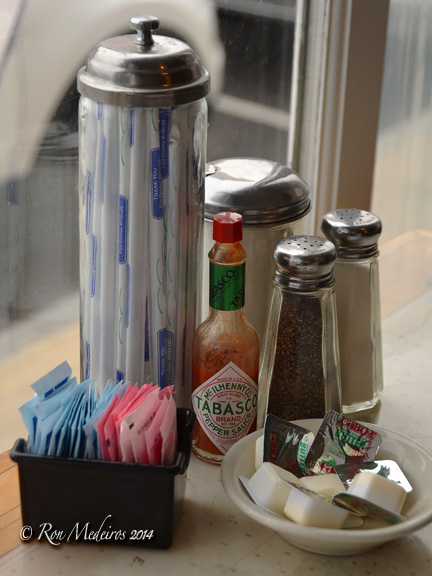 Cafe Americana
A sample of Americana at the Harbor Cafe, in Stonington, Maine.
             Posted Sunday, August 24, 2014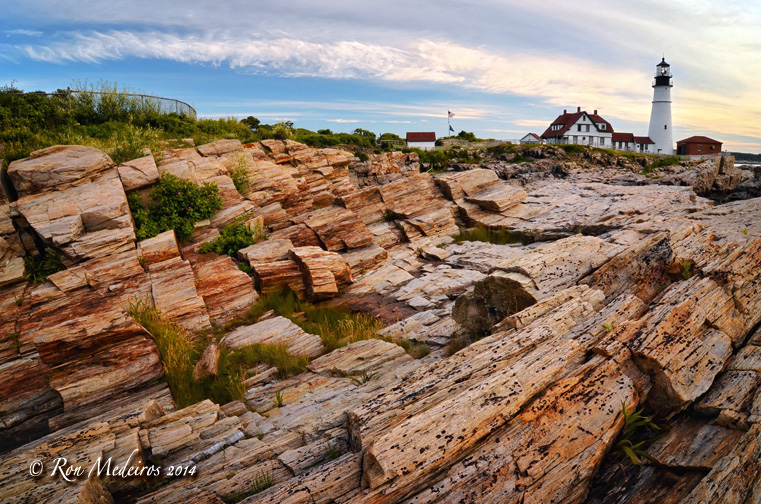 Clearing Skies, Portland Head Light
Cape Elizabeth, Maine
Click to enlarge
The posts have been sparse again due to a very busy summer (too much of that work stuff getting in the way again). I recently returned from a freelance photography assignment to photograph the Maine coast for
Richardson's Maptech
. The image above was one of hundreds I captured over a two week period for their New England Coast cruising guide. I traveled the entire stretch of coastal route 1 from Kittery to Eastport; as well as a few of the Islands like Deer Island, Stonington, Beals Island, and Vinalhaven. Besides a vigorous photography schedule, and all of the related details, I had many opportunities to speak with people whom I met in the goings. The sheer volume of images captured prevents me from posting them as a complete collection any time soon. This probably means that I will feature the best of them, one at a time, over the next year and beyond.
              Posted Wednesday, July 2, 2014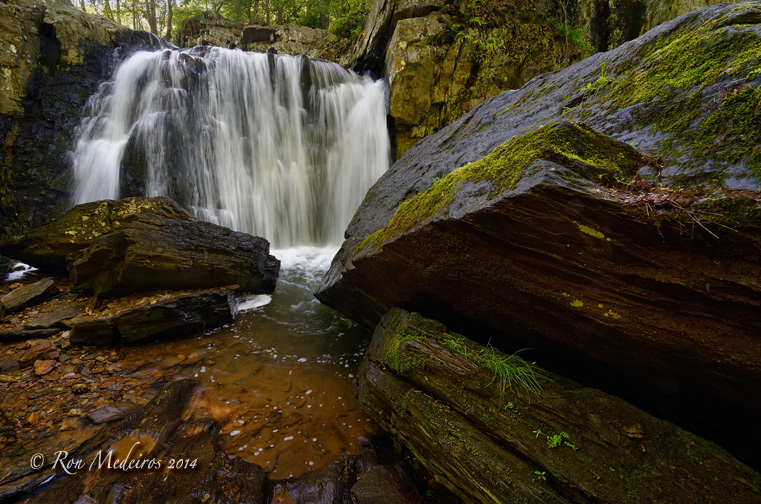 Rocks Beneath The Falls
Nikon D7000
Tokina 11-16 f2.8 AT-X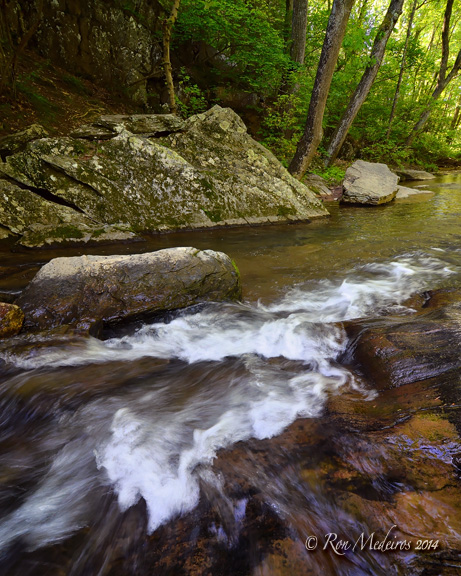 Down Falling Branch
Nikon D7000
Tokina 11-16 f2.8 AT-X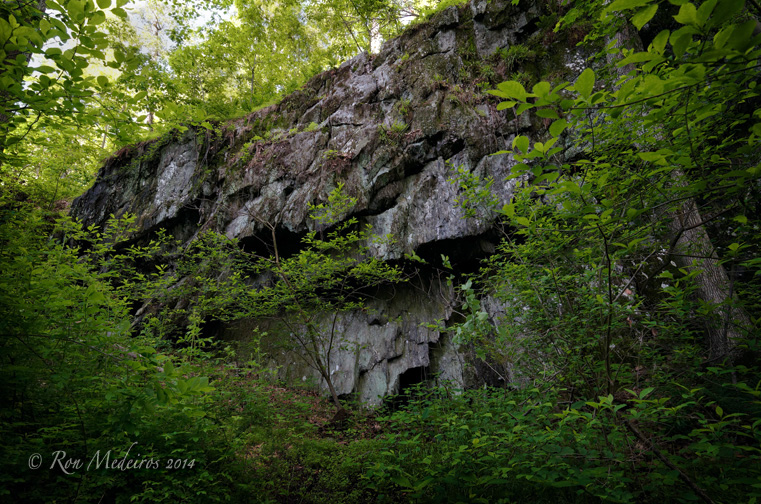 RR3099
Nikon D7000
Tokina 11-16 f2.8 AT-X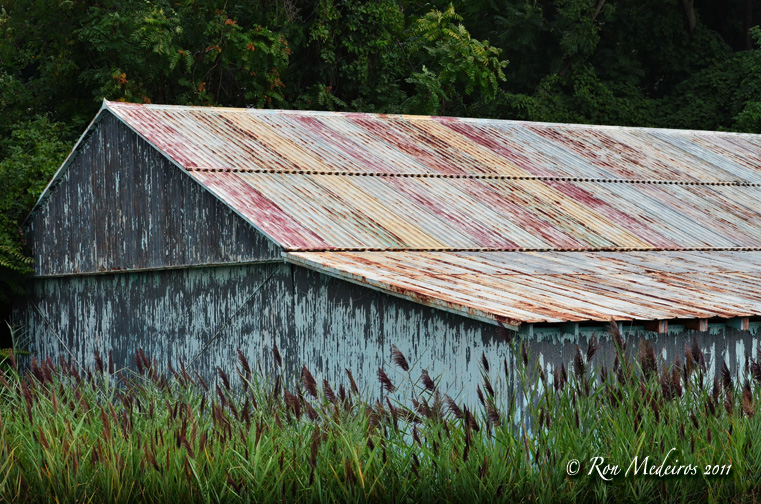 Fading Colors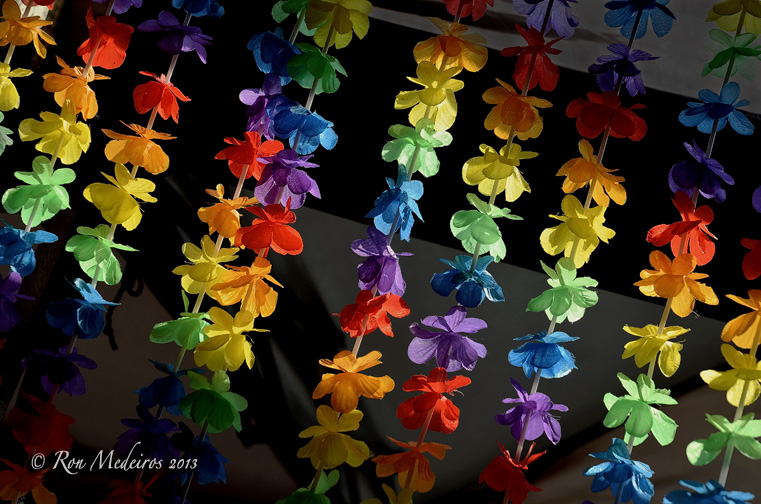 Diagonal Colors
From the Creative Interest Gallery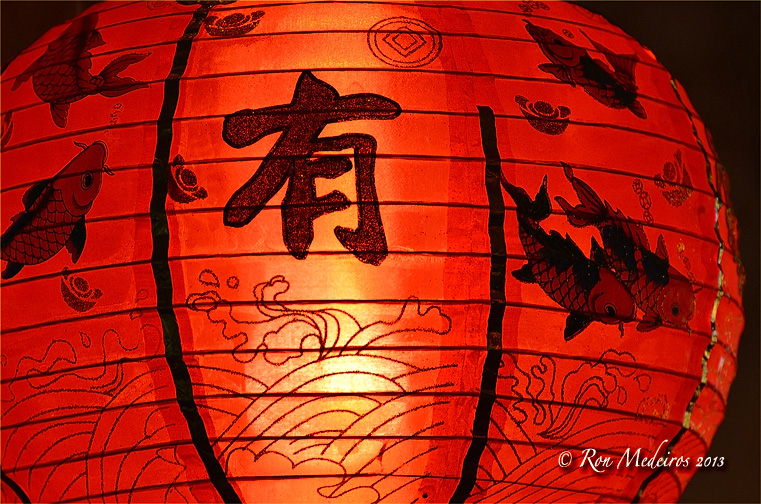 Chinese Lantern
From the Creative Interest Gallery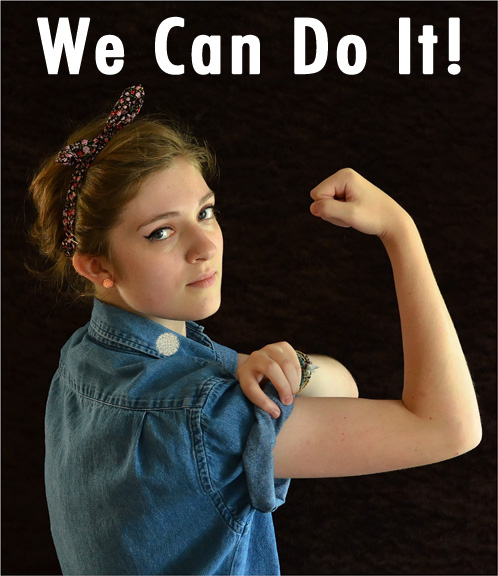 Rosie The Riveter's Great-Granddaughter Found!
My Latest Work Blog is seasonally updated with new photographs. And my Featured Photograph page showcases a different photograph daily. Come visit the darkroom again for more eye candy. There's nothing more enjoyable on the web than a good photo blog.
I am pleased to share Makeshift Darkroom with you.
Ron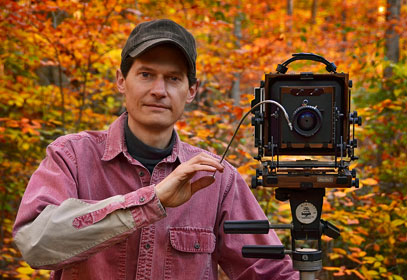 MORE PHOTOGRAPHS IN THE ARCHIVES
If you are new to Makeshift Darkroom you can see what you have missed in the Latest Work archived "Back Issues."
^
Top
BACK ISSUES