FEATURED PHOTOGRAPH
Posted July 3, 2010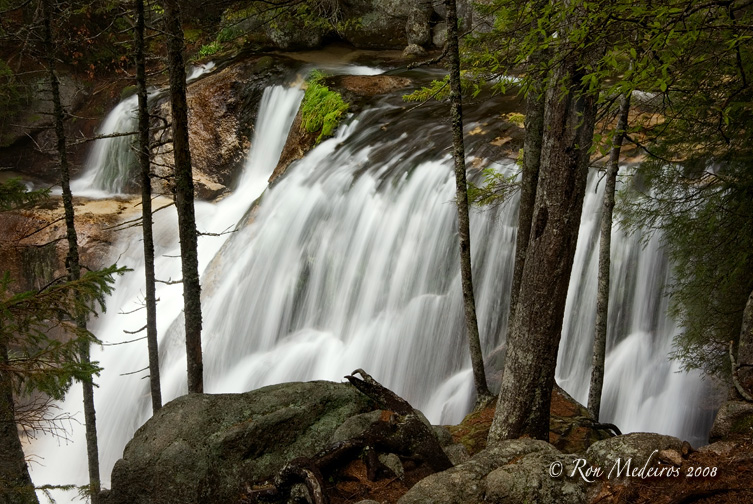 Katahdin Stream Falls
Mt. Katahdin, Baxter State Park, ME.
The above featured photograph was captured in June of 2008 on my hike up mile high Mt Katahdin. The weather that morning was unsettled with heavy mist and cloud cover. Expecting that the summit would yield poor visibility, I decided to settle for a late start and hike only up to these falls. (1/4 of the way up the mountain) My plan was to spend an hour or two shooting at Katahdin Stream Falls and then hike back down and try for the summit the following day. While at the falls, the weather cleared and climbers I met on their way down from the summit told me the visibility above the tree line was great. I decided to go for it and after a very challenging climb I made the summit at about 6:00 PM. I spent 22 minutes making exposures with my D200 atop Maine's highest peak and then started back down racing a quickly setting sun. I really pushed myself to get down before dark, and did so, but was literally exhausted. I was somewhat dehydrated and light headed, with bleeding blisters on my feet. Mt. Katahdin is one enormously rugged pile of granite boulders; a respectable challenge for any hiker/climber. Next time I will start very early in the morning and pace myself throughout the hike.
I have posted a few photographs here from my climb as well as some others in Baxter State Park. Over the course of this summer I hope to add more to this posting.
Tips and Techniques
The photograph above, "Katahdin Stream Falls", captured with a Nikon D200 and 18-200mm VR Nikkor lens. (a bit heavy for mountain hiking) A Hoya HMC Skylight 1B Warming filter was used to remove blue violet in shadows. Raw exposure with tripod at about 1.5 sec shutter / ISO 100. In this case it is imperative to expose for optimum high values and let the low values (shadows) fall where they may. The low values are easily corrected in the darkroom. Extensive "imagesmithing" was, of course, performed in the "darkroom" - Photoshop CS2. As usual using only basic adjustment layer controls as well as dodging and burning. All photographs taken above the tree line were shot hand held as I had to ditch the tripod about 1/2 way up the mountain to lighten my load.
Many of the following photographs, though taken back in 2008, were only recently "printed" in the darkroom; in this sense they represent my "latest work".
Showcase
Baxter State Park, Maine 2008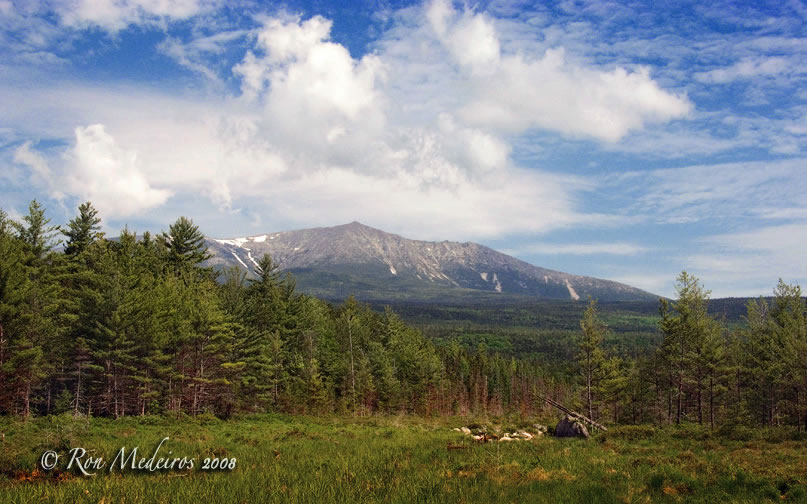 Mt Katahdin Scenic
At 5271 feet above sea level Katahdin is Maine's highest mountain. Katahdin is the centerpiece of Baxter State Park. It is also the mountain featured in the L. L. Bean logo.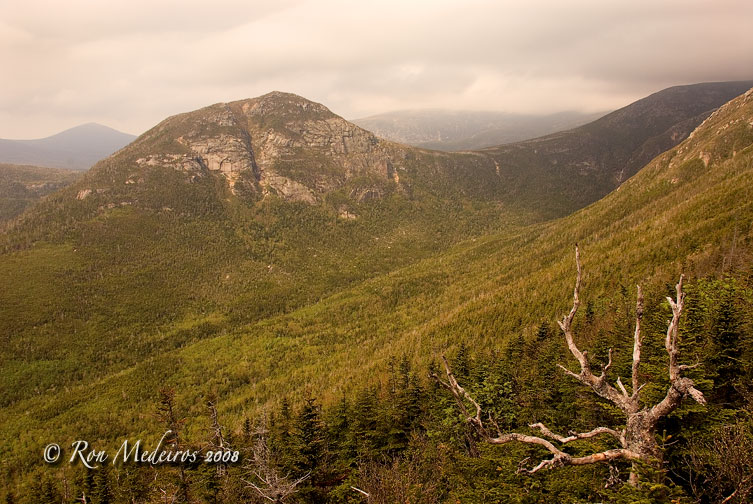 The Owl
This is a view of "The Owl" from Hunt trail on Katahdin's south west side.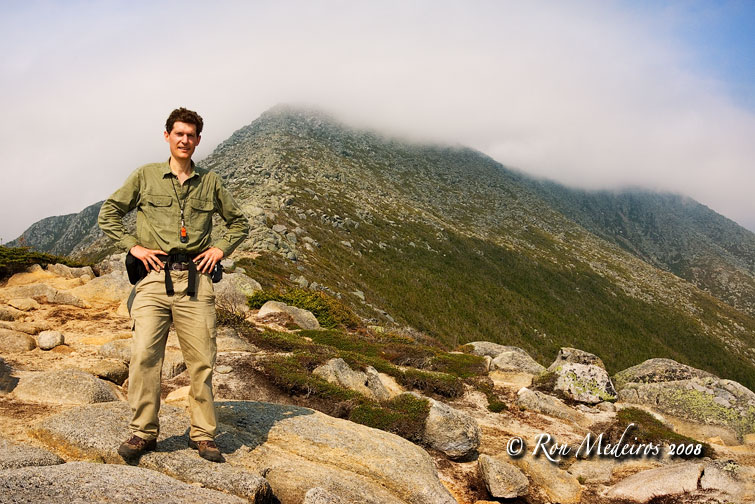 Ron On Katahdin
At this point I had just made it above the tree line on "Hunt Trail". I met up with four young guys on their way down from the summit. They expressed concern that I was, "traveling kind of light". ( I had only a small waist pack) I asked them for a bottle of water instead which one of them supplied. They asked me to take a picture of their group with their camera and then agreed to do the same for me. I handed my Nikon to one of them and he snapped this picture of me with the cloud veiled summit in the background. You can see here that I was wet and wilted from the climbing; that pint of water was truly a Godsend! Thanks guys!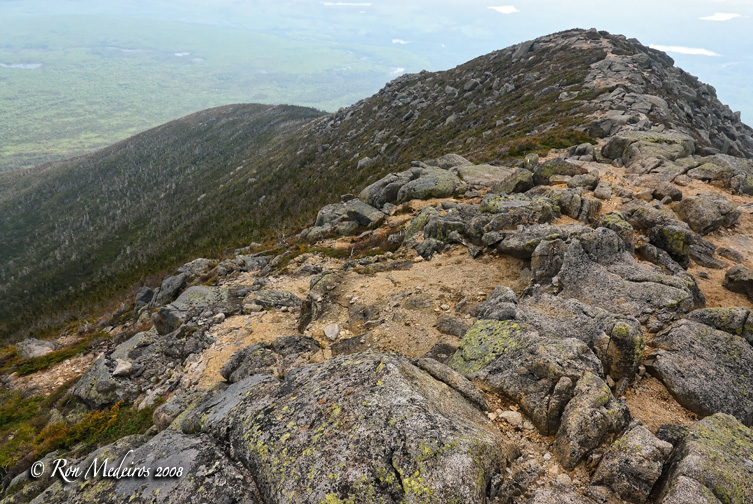 Katahdin, Hunt Trail
Here is a photograph looking back over the first half of the climb; part of it any way. Hunt Trail ascends on the spine of that ridge. At this point I am above the tree line and climbing over and through granite boulders. Granite..... lot's and lot's of granite! This photograph demonstrates how to use back ground haze to isolate and dramatically emphasize a closer subject.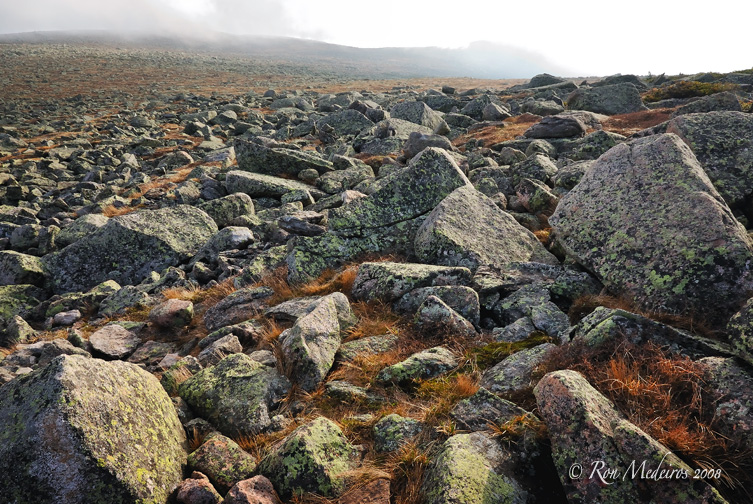 The Tableland, MT Katahdin
The "Table Land", an enormous and seemingly endless boulder field plateau on Katahdin's south west side. It is characterized by unique geological features and offers the weary climber a long stretch of relatively level elevation. I had it all to myself as it was very late in the day and all other climbers were well on their way down.
Tableland Boulder Field
This rugged windswept sea of boulders is vast and lonely; it makes you feel like you have discovered another world.
Tableland Detail
Tableland Granite
Edge Of The Tableland
Rock Formation, Mt. Katahdin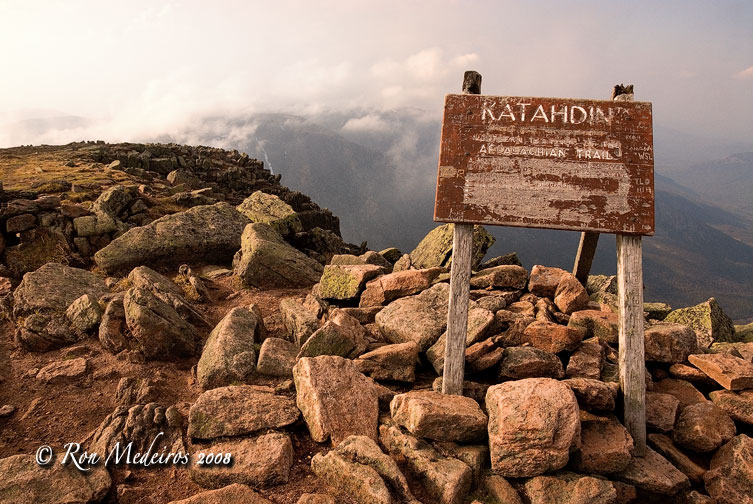 Sign, Katahdin Summit
"Photographic evidence". This is "Baxter Peak" the highest point in Maine and the northern terminus of the Appalachian Trail. The southern terminus is Springer Mountain in Georgia some 2000+ miles away (via trail). The weather cleared up perfectly treating me to an incredible view in every direction. 6 1/2 hours up, it only took me 1 3/4 hours to get down, though the descent was also very difficult.
The Knife Edge
Looking east northeast from Baxter Peak this is a beautiful late afternoon view of "the knife edge" (center). "Pamola and Chimney Peak" are to the left and "South Peak" is to the right. The knife edge, as the name suggests, is a jagged and extremely narrow ridge about half a mile long. It drops off steeply on both sides for about 2000 ft. and at it's narrowest point is only 3 1/2 feet wide. A knife edge indeed! It was too late in the day for me to hike to it. I would have loved to see it up close. Hopefully next time I will be able to hike and photograph it.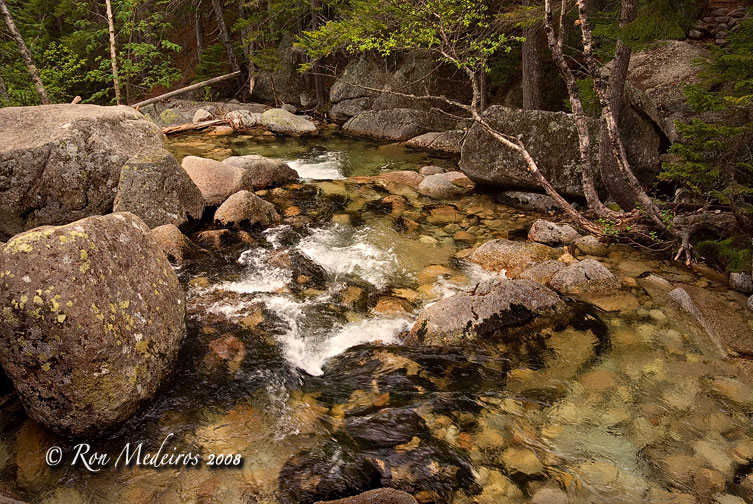 Crystal Pool, Katahdin Stream
On the way up to Katahdin Stream Falls there is a foot bridge that crosses over the stream. This deeper crystal clear "pool" was just below the bridge. The streams around Katahdin run beautifully pristine and clear. This invitingly clean water just beckons you. I was tempted to jump in.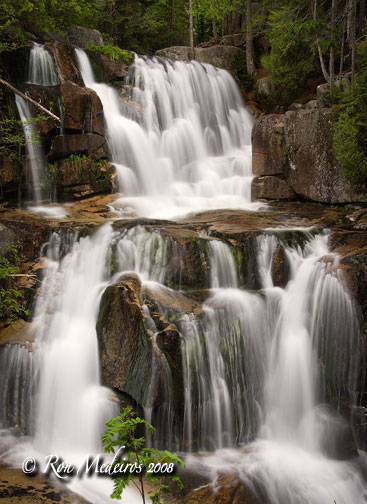 Cascades, Katahdin Stream Falls
Here is another photograph of the falls. This represents the upper half of the entire stretch of cascades that make up the falls on Katahdin Stream. Scroll down for a closer, more detailed, look.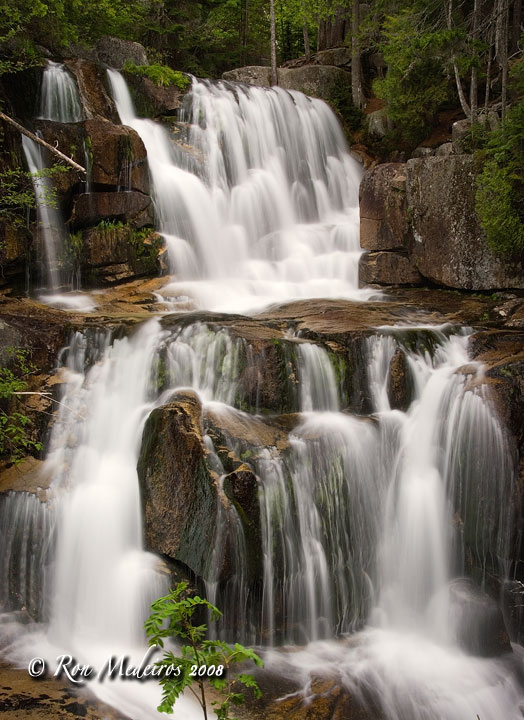 Cascades

Mount Katahdin, From Sandy Stream Pond
The day prior to my climb I hiked into Sandy Stream Pond. About 1 1/2 miles east from the base of the mountain, it offers a beautiful vantage point for photography. I spent a few hours making a series of exposures under changing light and cloud cover. Sandy Stream Pond is a very remote and wild location. I really enjoyed the solitude, being able to work with my camera away from all human distractions. This photograph is a panorama made from a series of composite images and digitally "stitched" together in the darkroom - CS2. The summit, "Baxter Peak", is behind the peak to the left.
As I was working on this scene I heard a twig snap behind me, turning around, I saw that I had an unexpected visitor... or maybe I was the unexpected visitor. (See next photo)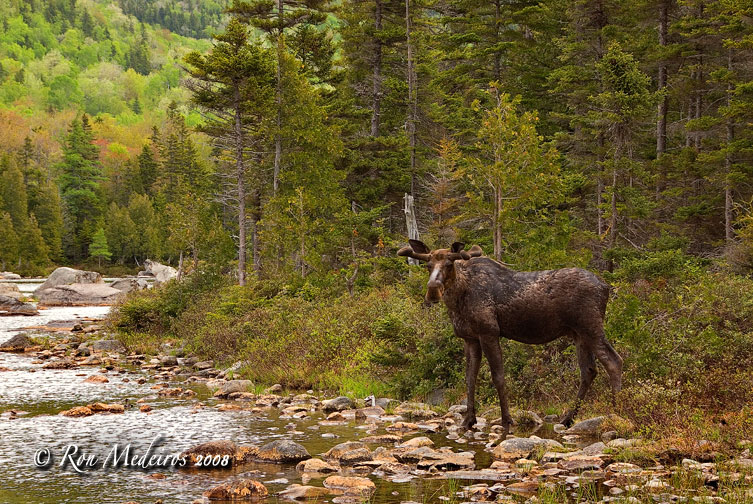 Moose, Sandy Stream Pond
This bull moose came up behind me within about 50 ft. I remained still and managed to swing my camera around on the tripod to get a few shots. His rack was in it's velvet growth stage and still very small. It turned out that he was a pretty cool customer and, as expected, displayed no aggression. He waded out into the pond to feed on his favorite food, aquatic vegetation. You can tell by his appearance that he had endured a very hard winter. He was probably in no condition to challenge my presence. Bull moose may be more prone to aggressively defend their territory in the fall mating season. I saw 4 moose that morning at Sandy Stream Pond; another bigger bull across the pond and 2 cows. I ran into one of the cows as I was hiking out, but she turned and ran. The next photo is of the bigger bull feeding out in the pond.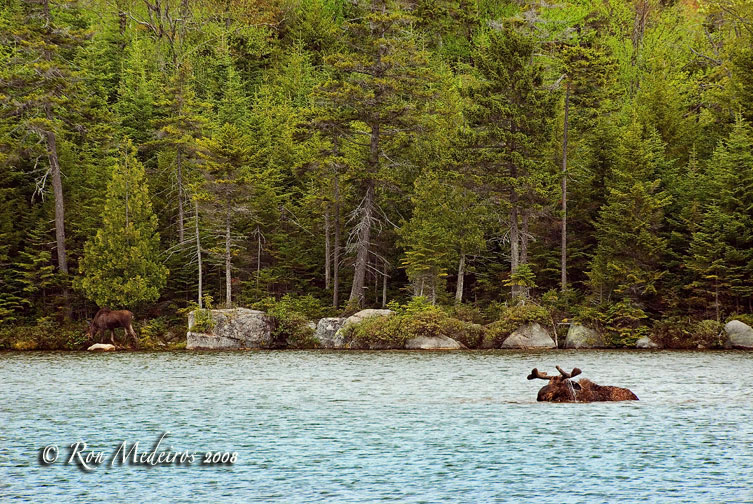 Moose Feeding, Sandy Stream Pond
I'm glad this bruiser entered the water from the other side of the pond. He must be a very respectable animal in the fall, when he is in his fleshy prime and carrying a full rack on his head. I would love to get a picture of him then. Notice the cow on the shore to the far left.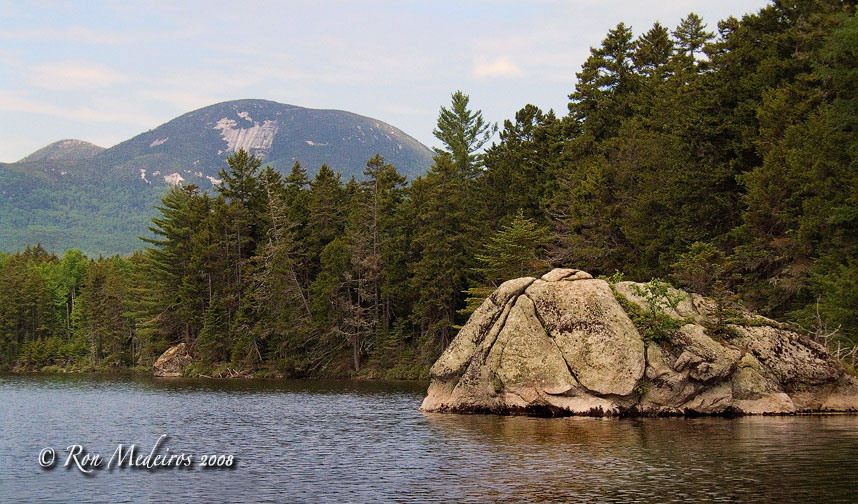 Kidney Pond
This photograph, and the one to follow, were both taken while kayaking with my compact point and shoot Fujifilm E900. It is capable of excellent image quality with relatively low noise for a small sensor camera. I don't use it that often, however, because it writes and reads painfully slow, seldomly hits a correct exposure, and eats batteries like peanuts. I prefer shooting with real cameras like my Nikons. When I do get a good capture with it, like this one, I can usually make something of it in the darkroom.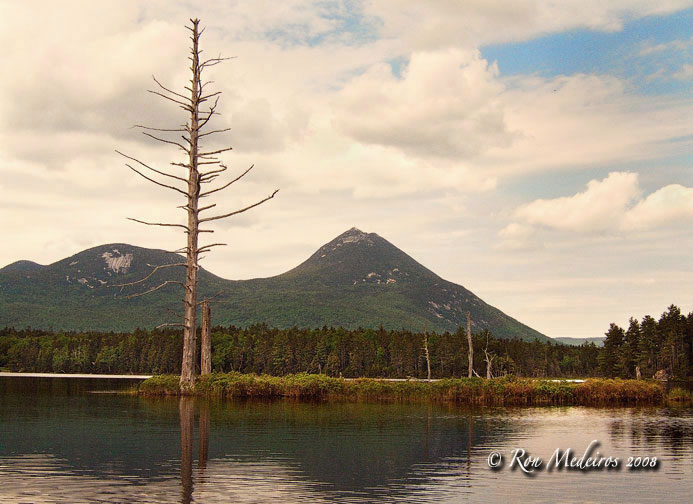 Kidney Pond Scenic
A tranquil scenic on Kidney Pond with Sentinel Mountain as the back drop. This image was made in the darkroom from a Fujifilm E900 12 bit RAW file. With this scene an 8 bit Jpeg file would not have yielded enough dynamic range as the sky was very bright. The 12 bit file gives extra dynamic range in raw conversion and is more forgiving when it comes to extensive dodging and burning. All dodging and burning was performed prior to "save for web" 8 bit Jpeg conversion.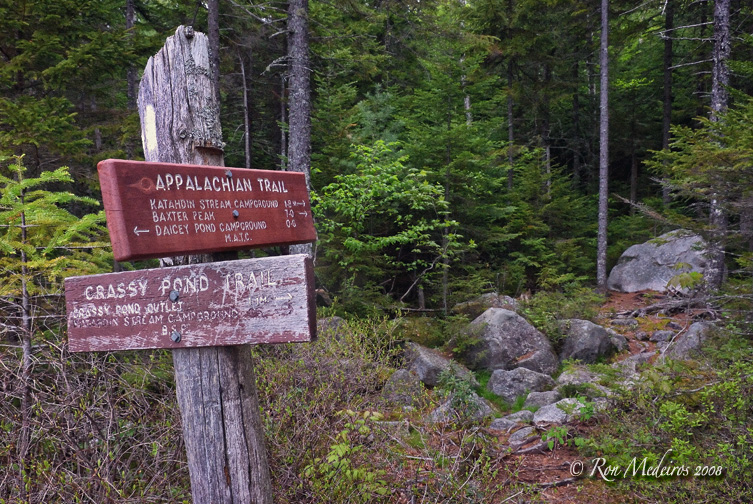 Appalachian Trail Marker, Baxter State Park, ME.
This exposure was made on the trail to Grassy Pond. With 200 miles of hiking trails in Baxter, including the Appalachian trail, these trail markers are a common and welcome sight. This place is a hiker's paradise with endless pristine terrain to explore. There are a good number of hikers that complete the entire appalachian trail journey. They begin in Georgia and about six months later finish the 2000+ mile trek at the summit of Katahdin.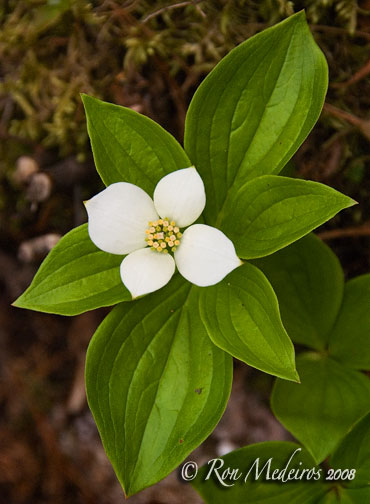 Bunchberry blossom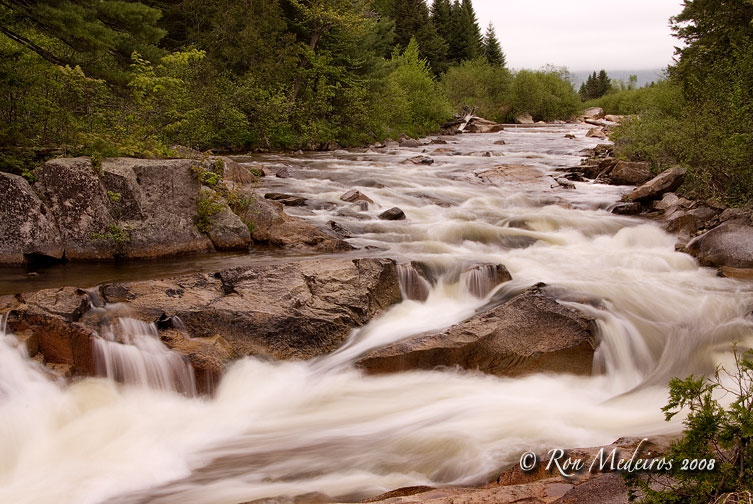 Upper Little Niagara Falls
The "Little" and "Big Niagara Falls" are part of the Nesowadnehunk Stream in Baxter. This part of the stream is just above the falls. This is beautifully wild country.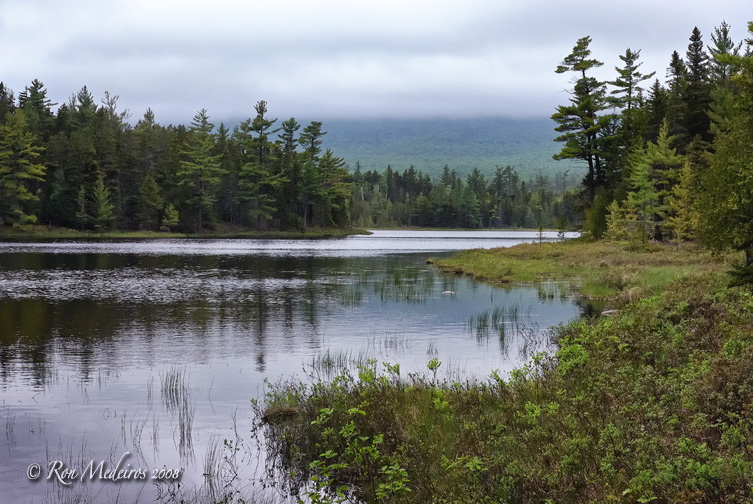 Elbow Pond, Baxter State Park, ME.
Elbow Pond is a beautifully preserved, quiet location nestled in the rolling terrain of Baxter. This scene rendered well in black and white with very extensive darkroom controls to compensate for challenging light. I would love to spend a stretch of time in a place like this. I couldn't help but think of God's promise that the meek will, one day, inherit the earth.
Anyone planning a trip to Baxter State Park should consider the following:
- The park only allows a certain limited number of people to visit per day then the gates close - arrive early.
- The mosquitos and black flies can be quite a nuisance - bring repellent and a mosquito head net for certain locations at lower elevations (be prepared).
- When climbing Katahdin get an early start to leave plenty of time for return trip. Pace yourself during the climb.
- Make sure you bring 3 liters of water per person when climbing Katahdin. Keep yourself hydrated.
- Wear good hiking boots / shoes with well padded socks - bring mole skin for blisters.
- Pack light when climbing. Water, Food, and a bright light weight flash light are top 3 essentials.
- Be careful on the descent. If you are tired and careless you could wedge your foot in a rock, fall, and break an ankle or leg.
- Be sure to first check with the park for rules, seasonal updates, and the latest important information.
http://www.baxterstateparkauthority.com/
Special thanks to Gail at Hidden Springs Camp Ground for all her local knowledge, maps, and hospitality!
OTHER PHOTOGRAPHS FEATURED THIS SUMMER
Here are the latest "prints" from the Makeshift Darkroom, fresh off the drying line.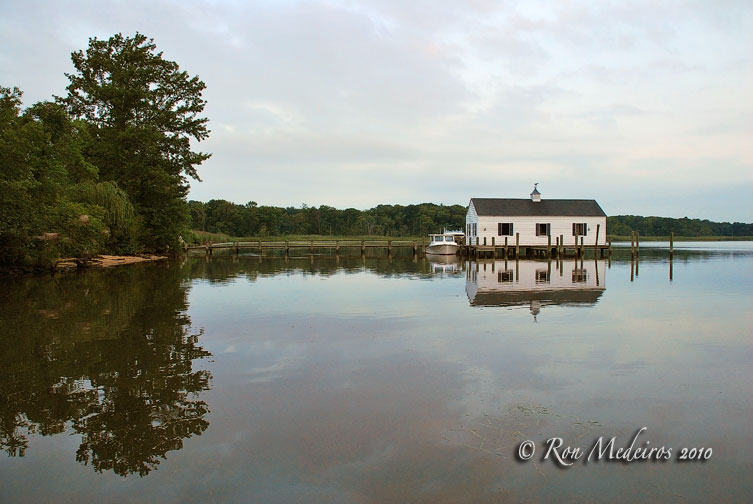 Quiet Creek

Dundee Creek, Chesapeake Bay, MD.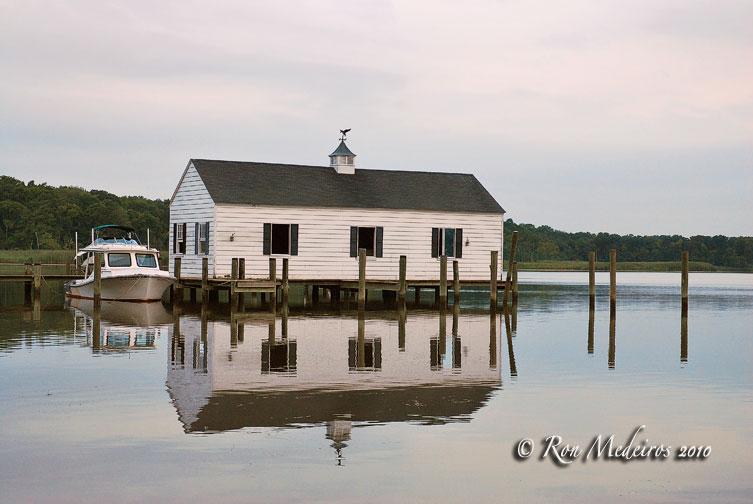 Boat House

Dundee Creek, Chesapeake Bay, MD.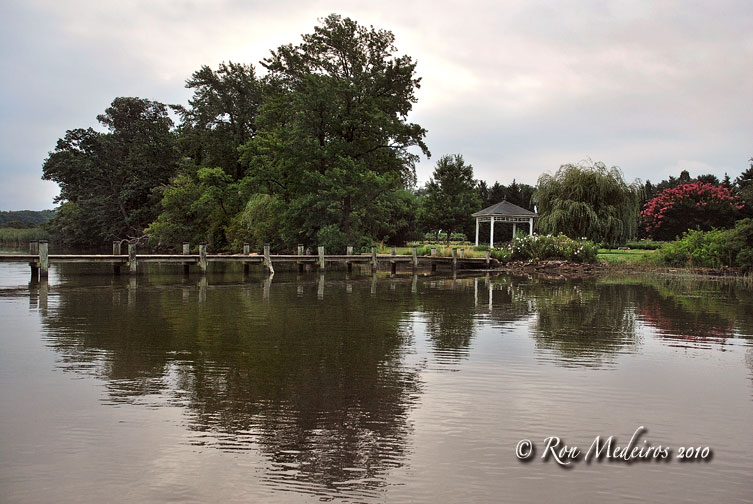 Dockside Scenic

Dundee Creek, Chesapeake Bay, MD.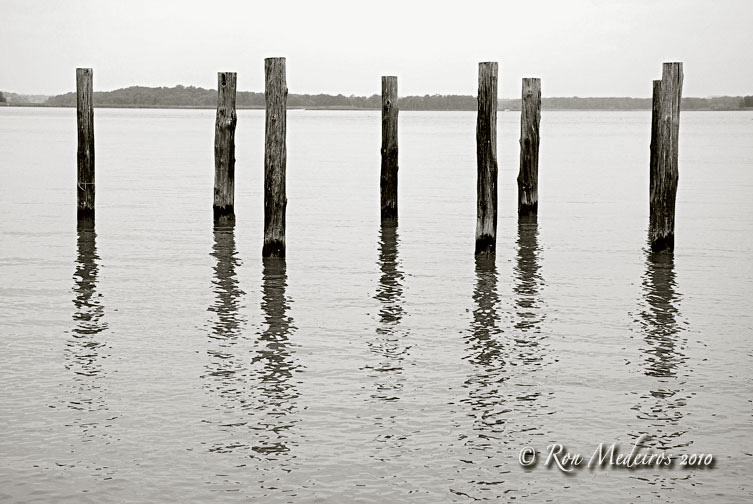 Pilings

Gun Powder River, Chesapeake Bay, MD.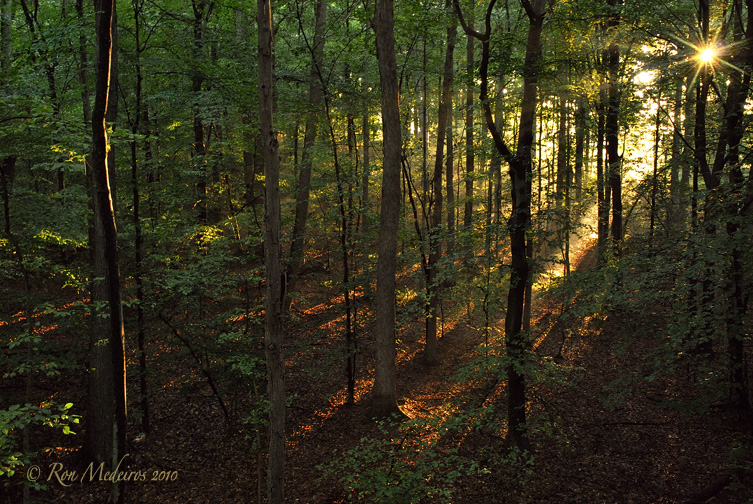 Forest Light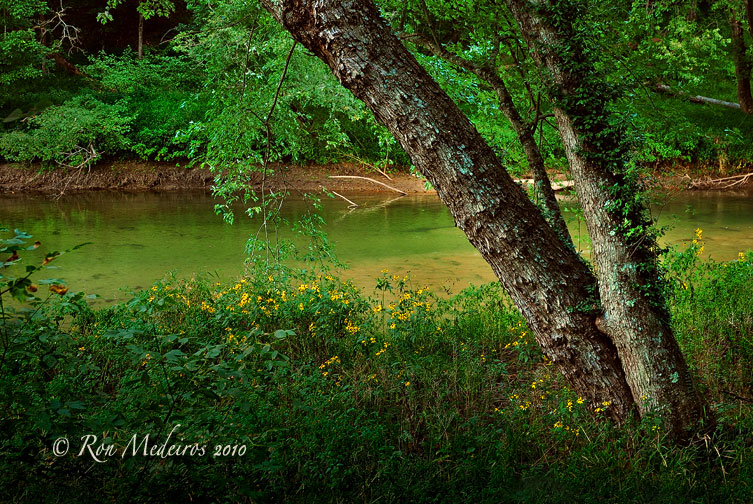 Leaning On the River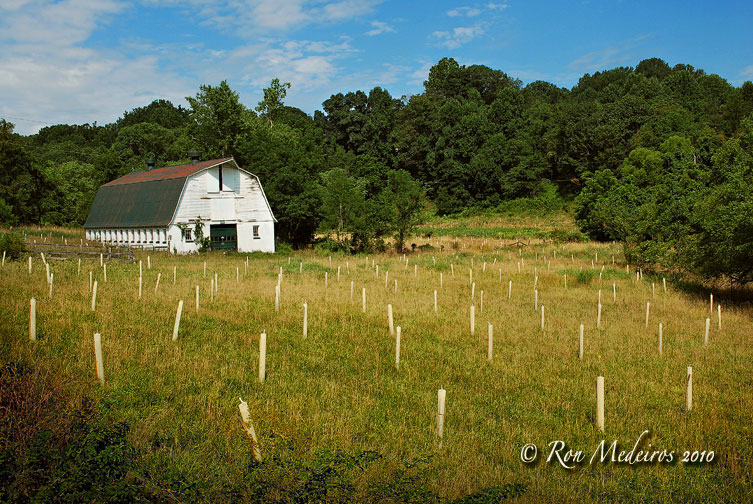 Tree Farm
White Barn
Devotional Snapshot
My Latest Work Blog is seasonally updated with new photographs. And my Featured Photograph page showcases a different photograph daily. Come visit the darkroom again for more eye candy. There's nothing more enjoyable on the web than a good photo blog.
I am pleased to share Makeshift Darkroom with you.
Ron

If you are new to Makeshift Darkroom you can see what you have missed in the archived "Back Issues"
^
Top
BACK ISSUES