Posted Sunday February 20, 2011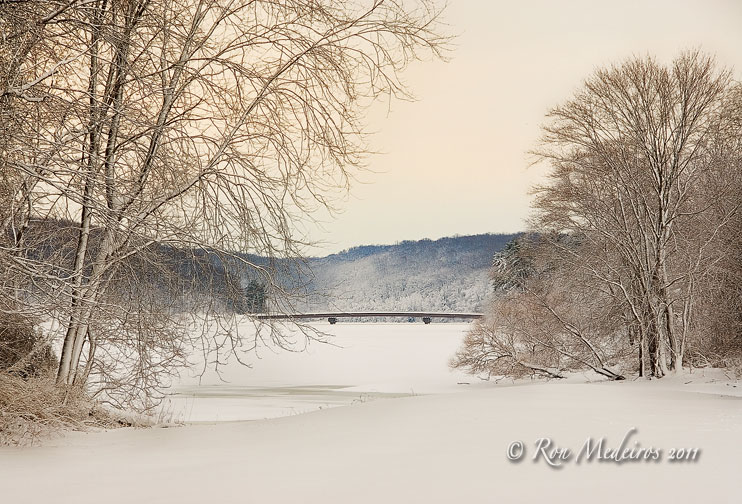 Snow, Loch Raven Reservoir
Loch Raven Reservoir, Baltimore County, Maryland.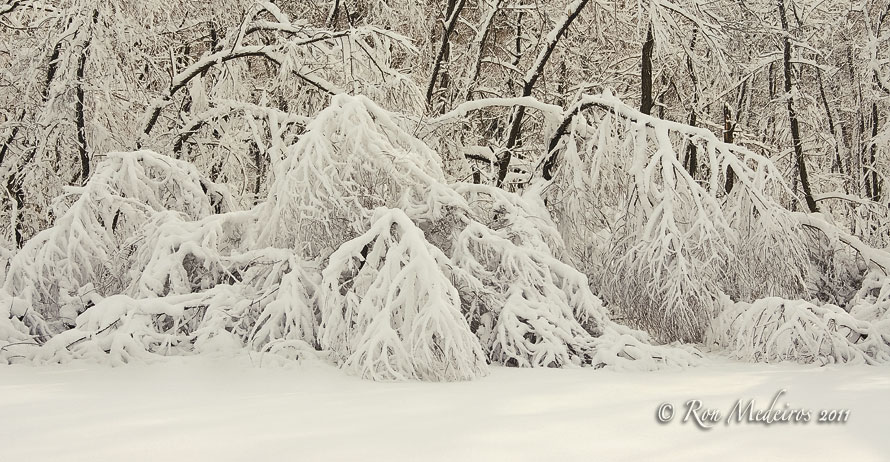 Heavy Snow
"Narnian Winter"
Loch Raven Reservoir, Baltimore County, Maryland
Snow Scene, Loch Raven Reservoir
Loch Raven Reservoir, Baltimore County, Maryland.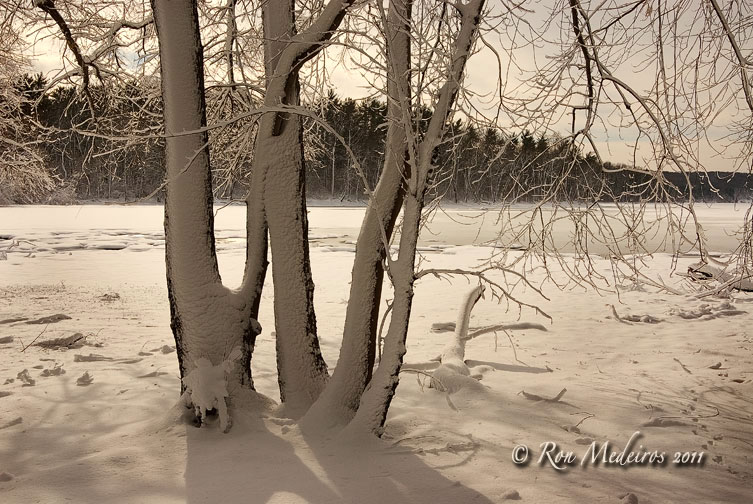 Winter Scene, Loch Raven Reservoir
Loch Raven Reservoir, Baltimore County, Maryland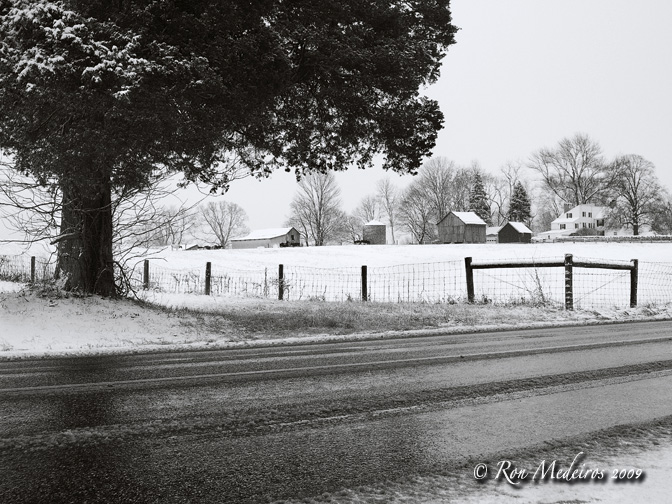 Farm Across The Way
Harford County, Maryland.
I captured this exposure with a little point and shoot camera back in January of 2009. The finished photograph was "made" just recently, and in this sense, represents part of my latest work. The 12 BIT RAW file was reworked with curves adjustments and dodging and burning, It was then "printed" in black and white using the channel mixer - all in CS2. Finally it was toned to render an "Agfa Portriga" print tone effect using a mild color balance adjustment.
Winter Farm Scene
Harford County, Maryland.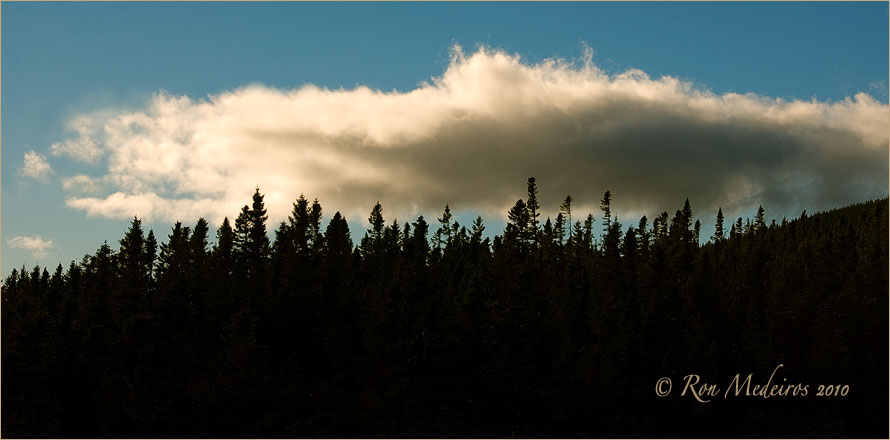 Trees And Cloud
Mt. Katahdin, Baxter State Park, Maine.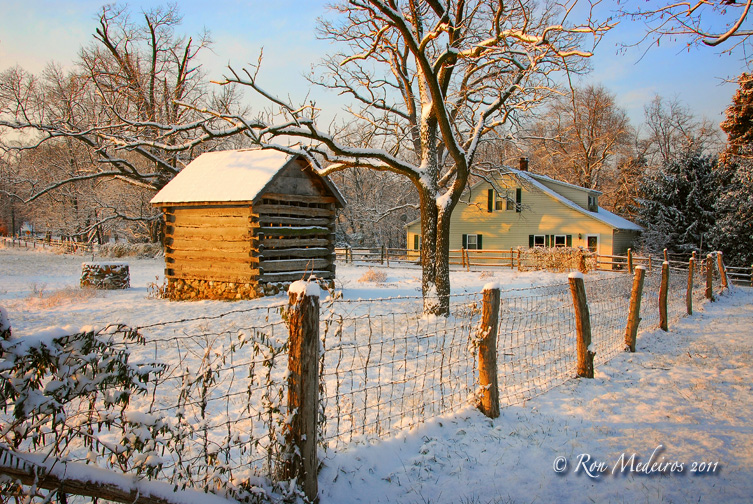 Country Snow
Baltimore County, Maryland.
Here is the February 2011 "Photo Of The Month" snow scene. I just had to include it in this Winter page.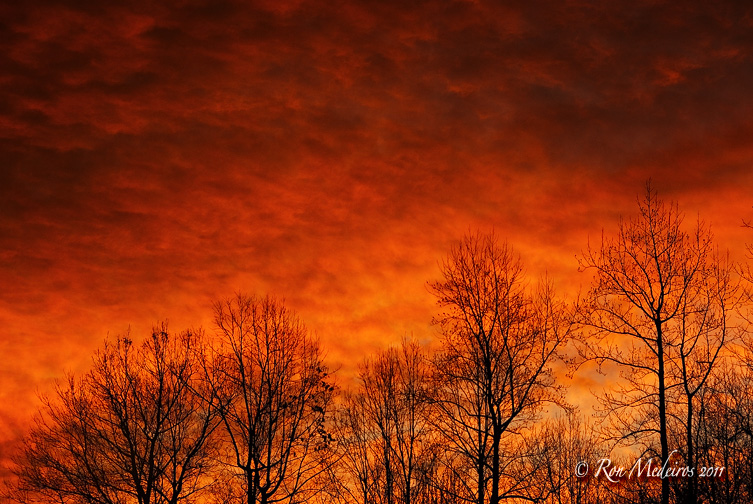 Dawning Red
With all of the soft and subtle colors within the snow scenes posted above, I wanted to include a burst of vivid "Digital Velvia" color to conclude this February 20th posting. As this day dawned, strong hues of red were extraordinarily predominant in this fiery display. There have been so many spectacular sunrises that I have failed to capture, over the years. This really bothered me - feeling as though I had missed such great opportunity. Recently, God showed me that this was no cause for concern, because he is always able to paint another one for me, any time he chooses.... Sunrise Forever!
Posted Tuesday February 1, 2011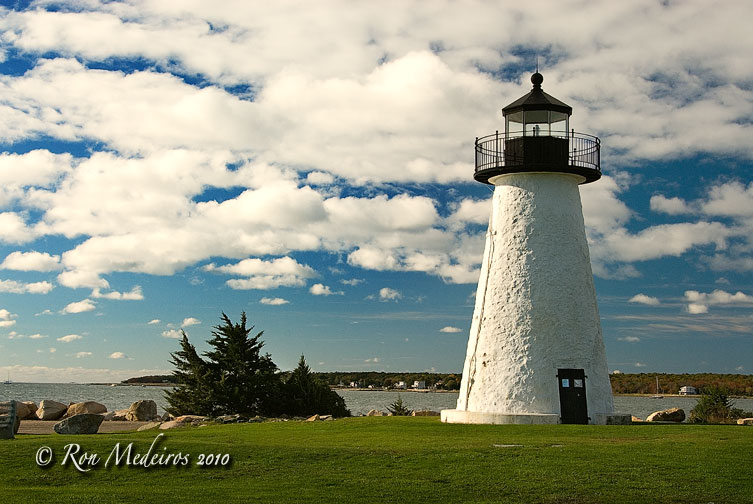 Ned's Point Lighthouse
Mattapoisett Harbor, Mattapoisett, MA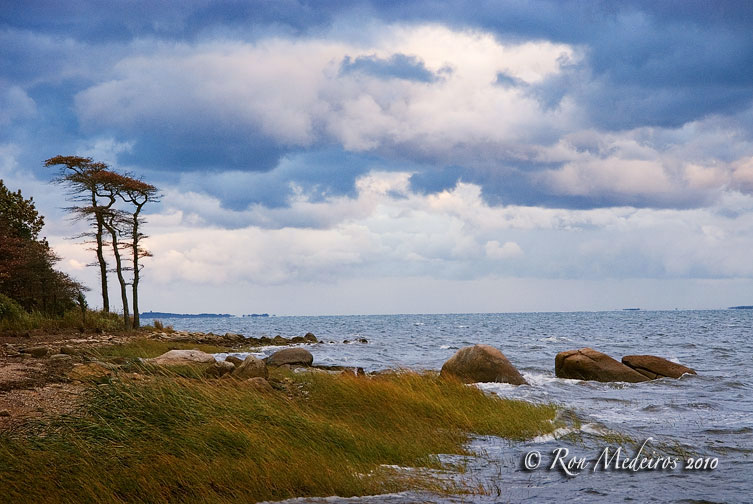 Passing Storm, Shaw's Cove
Shaw's Cove, Mattapoisett, MA
A storm front was passing through the area and there was an unusual steely blue light quality within the clouds. My friend and I raced over to this location and made our way down to this cove on bicycles. I ran about a half mile down the shore line and made many exposures under this unusual sky.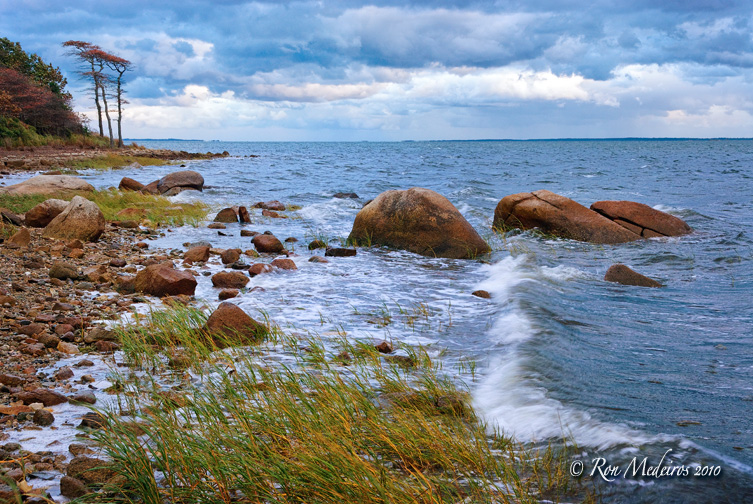 Shaw's Cove
Shaw's Cove, Mattapoisett, MA
This is a stretch of shoreline that I know very well. I made this photograph to preserve, for myself, the nostalgia of this scene. I have spent a great deal of my young life on this land hunting, shooting, camping, and clamming - back when America was still America. A day when private property wasn't considered unfair. When it was safe for children to play in the woods and plinking cans with a .22 rifle was accepted as commonplace. It's sad how quickly things have changed. Fortunately this coastal landscape has not changed like the social, political, and economic landscapes have - a result of the post-modern world views that our nation prefers. Our beloved "melting pot" nation has become a pluralistic "salad bowl" of "new" ideas. Can we really expect that the ideas that have made other nations into third world hell holes will improve America - the greatest and most prosperous super power that the world has ever known? These new ideas are really just a symptom of the root problem - America has all but lost her reverence for God and with it goes the blessing.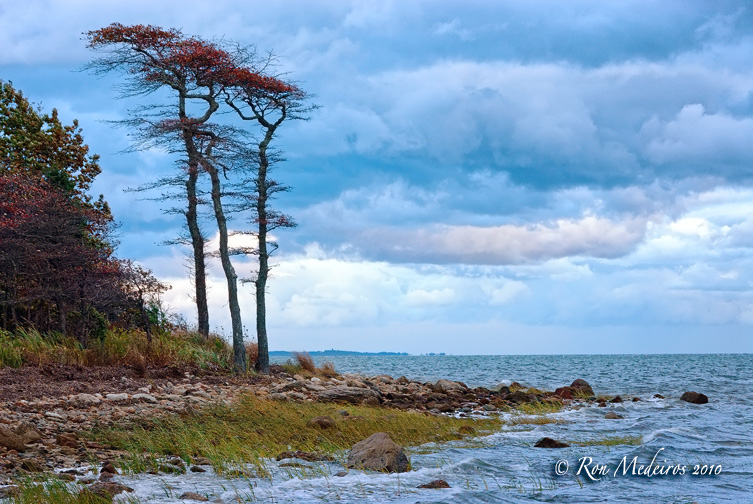 The Three Sentinels
Shaw's Cove, Mattapoisett, MA
These three trees that I have named. "The Three Sentinels," have stood here from before my youth. They are a very familiar part of this landscape. Their growth has been slow due, no doubt, to their nearness to the salt tides. During moon high tides and nor east storms, their root systems get submerged in the salty brine. They are true survivors and have earned the right to their place watching over this rocky point of land. They have a beautiful wind swept form that I have always believed to be due to the onshore winds in some way.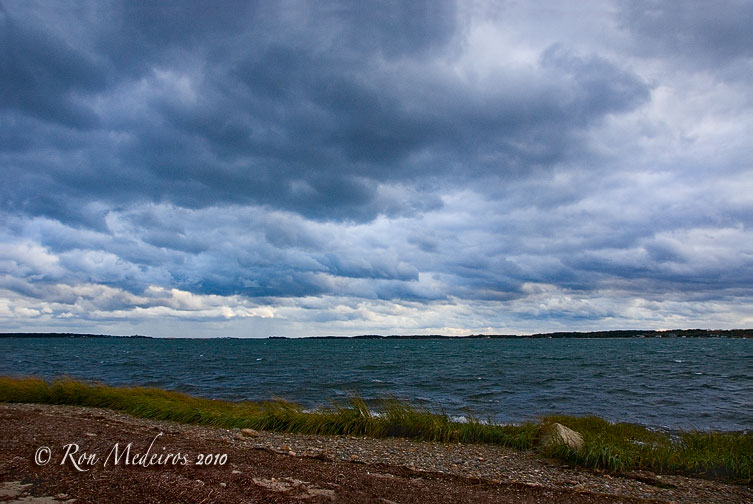 Steely Blue Sky
Shaw's Cove, Mattapoisett, MA.
The sky is the subject in this photograph. This sky is rendered pretty much as it appeared in real life. The passing storm produced these very dramatic and beautifully colored clouds that day. I love being in the right place at the right time to capture scenes with rare and unusual light. More times than not, it doesn't work out that way, but it is certainly nice when it does.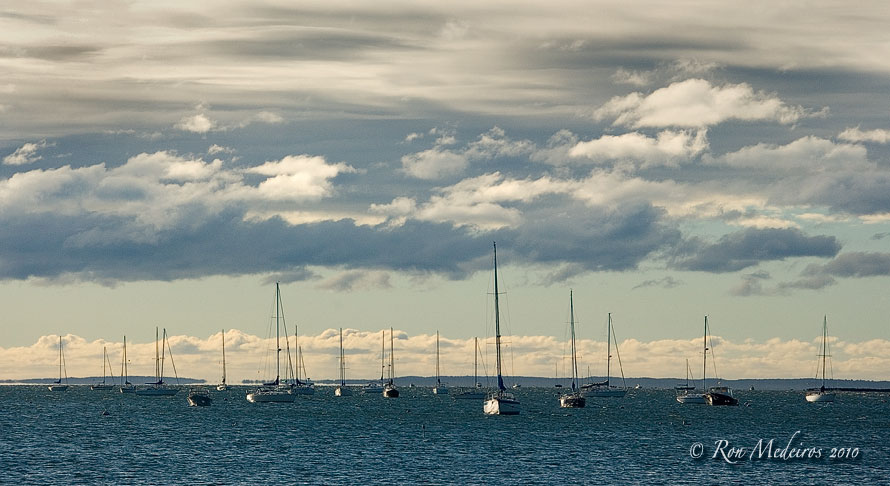 Clouds Over Mattapoisett Harbor
Mattapoisett, MA
Mattapoisett Harbor has always been about sailing vessels. In the mid 1800's Mattapoisett was the ship building capitol of America. Many Whaling ships were built in what is now "Ship Yard Park," at the Town Wharf. The harbor is filled with sail boats tied to their moorings. The sound of lines clanking against the aluminum masts fills the air. On this trip, I wanted to make a characteristic photograph of the masts in the harbor. The unusual clouds from the previous day's storm front was the needed element to make a this kind of image work.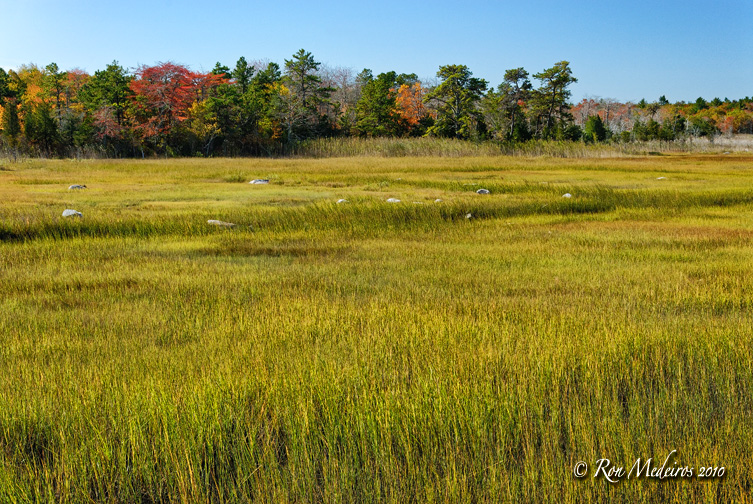 Marsh Colors
Mattapoisett Neck, Mattapoisett, MA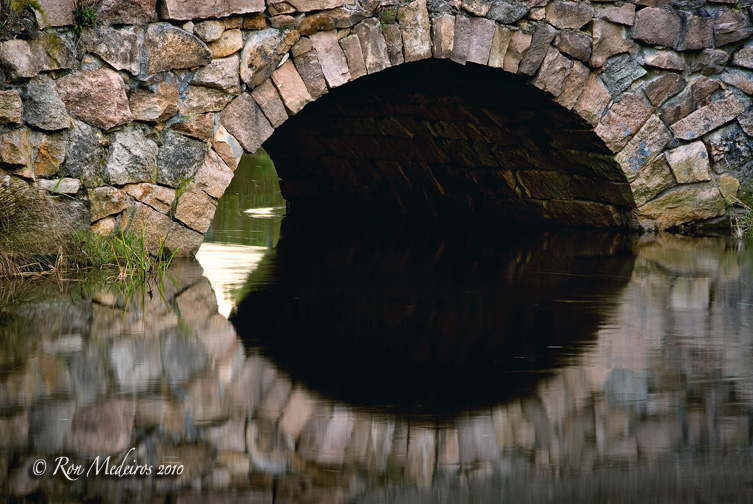 Arch, South Side
Arch Bridge, Mattapoisett River, Mattapoisett, MA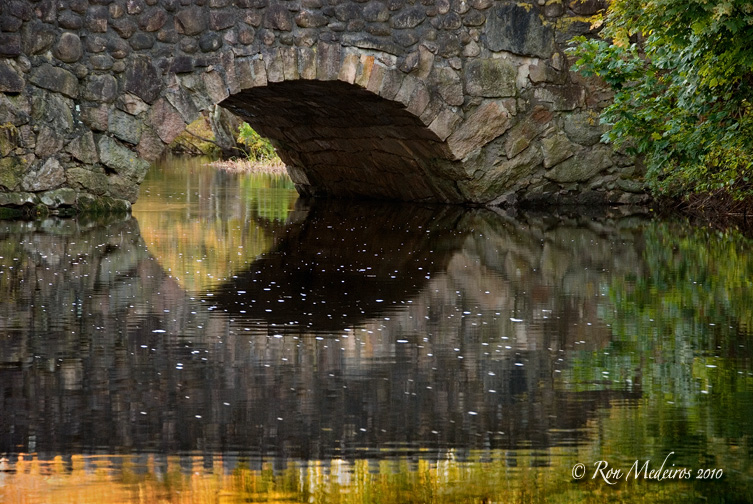 Arch, North Side
Arch Bridge, Mattapoisett River, Mattapoisett, MA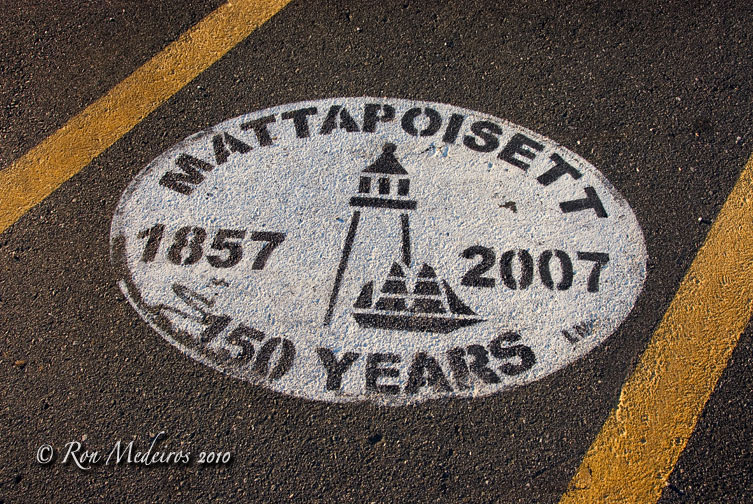 Sesquicentennial Logo
Town wharf, Mattapoisett, MA
I wanted to capture this logo before it is lost to entropy. After all, a town only has one sesquicentennial. This is a good example of balance within a composition, as well as effective use of diagonal lines. Usually it is best to avoid lines that run out of the frame, but it works very well here as the diagonal lines are balanced in two opposing corners. This composition is very pleasing to the eye.
Devotional Snapshot

Here's another look at

The Latest Work "page of the year" for 2010!


– A collection of the best Maine photographs of the year –
My Latest Work Blog is seasonally updated with new photographs. And my Featured Photograph page showcases a different photograph daily. Come visit the darkroom again for more eye candy. There's nothing more enjoyable on the web than a good photo blog.
I am pleased to share Makeshift Darkroom with you.
Ron

If you are new to Makeshift Darkroom you can see what you have missed in the archived "Back Issues"
^
Top
BACK ISSUES