DC Cherry Blossom Centennial
1 2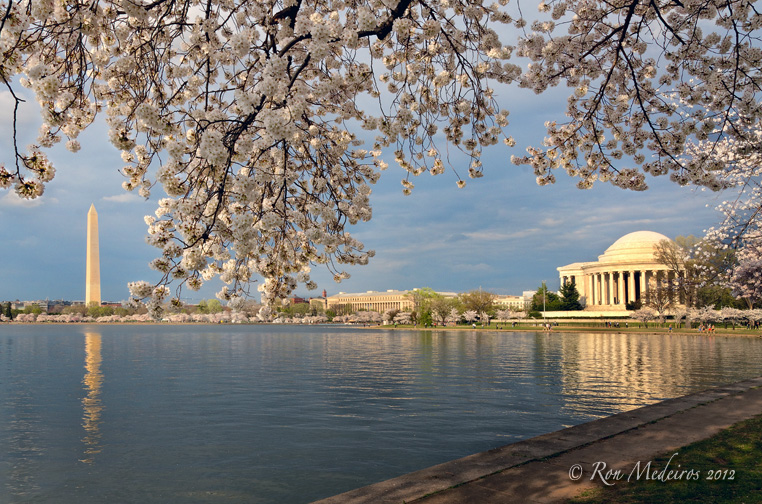 DC Cherry Blossoms
Framed with centennial cherry blossoms, the Washington Monument and Jefferson Memorial sit across the tidal basin.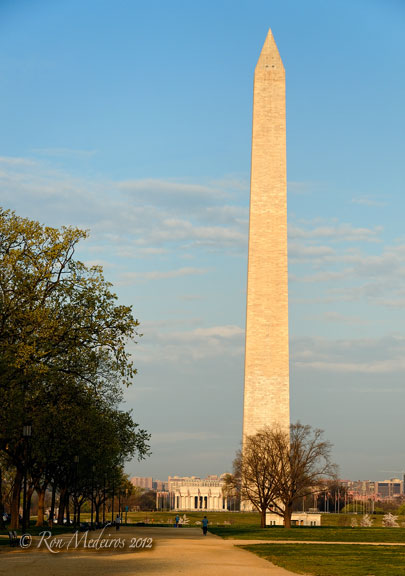 Washington Monument
2246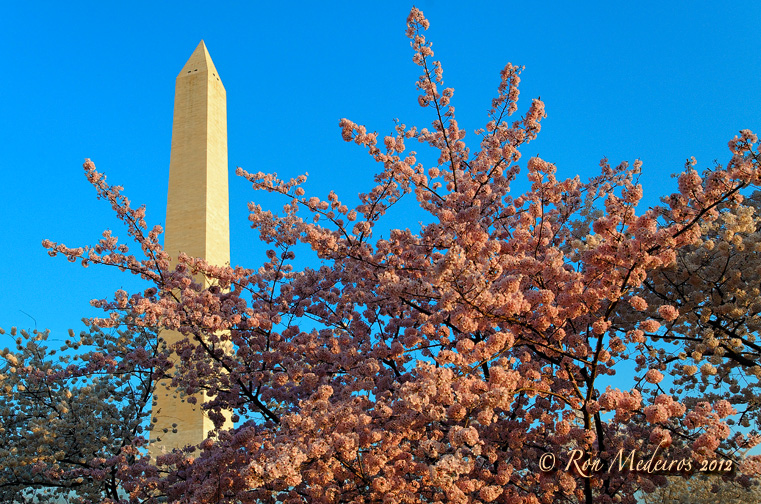 Washington Monument Above Cherry Blossoms
2262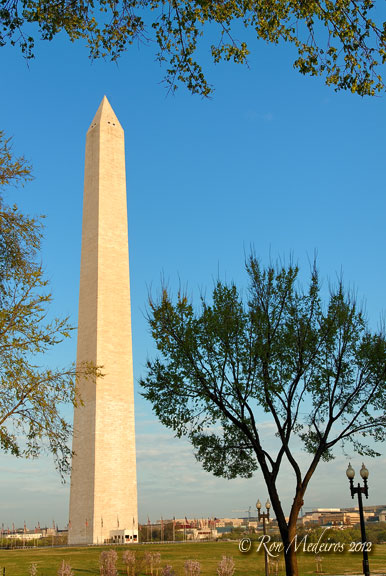 Washington Monument, National Mall
2257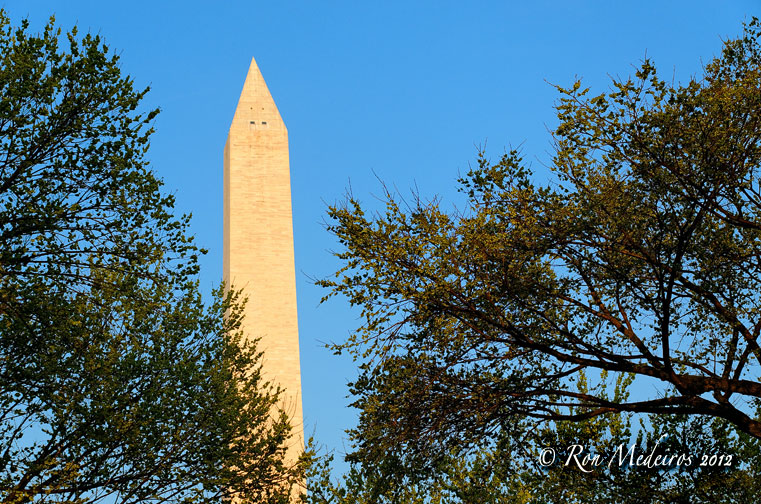 Washington Monument In Morning Sun
2249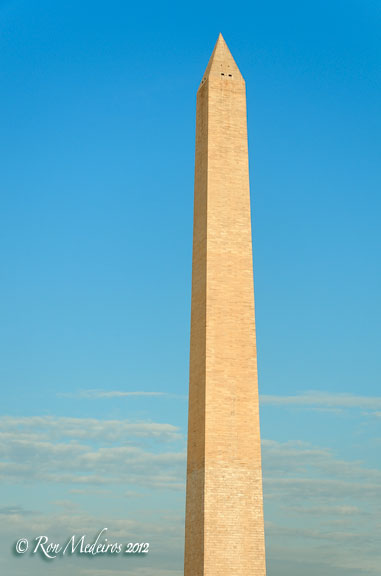 Washington Monument
2255
Warm sunlight graces the stone work on the Washington Monument.
Click on Image to enlarge and zoom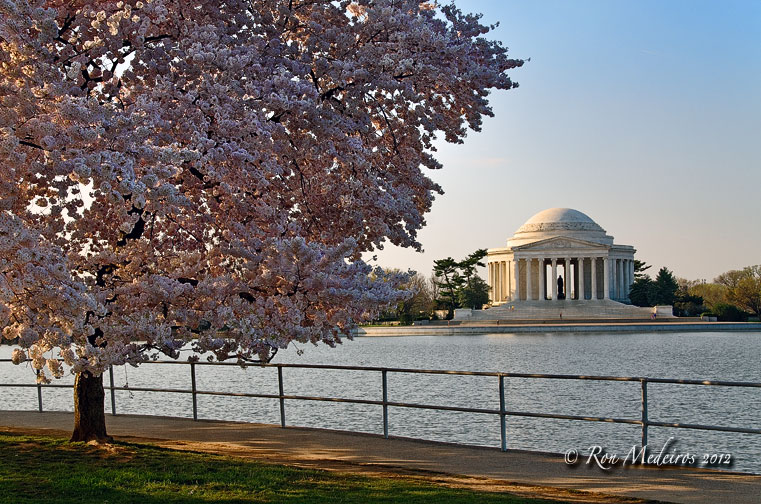 Cherry Blossoms And Jefferson Memorial
2300
Mouse over image for black and white rendering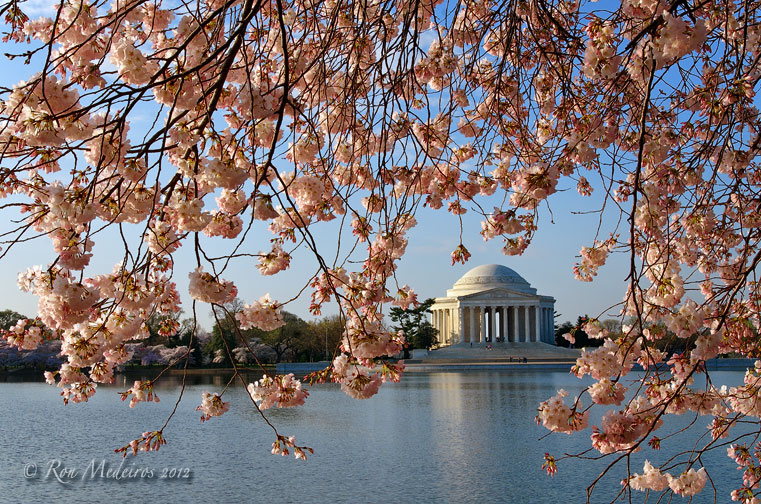 Cherry Blossoms and Jefferson Memorial
2281
Scenes like this one are common around the tidal basin, as over hanging cherry blossoms frame the DC landscape.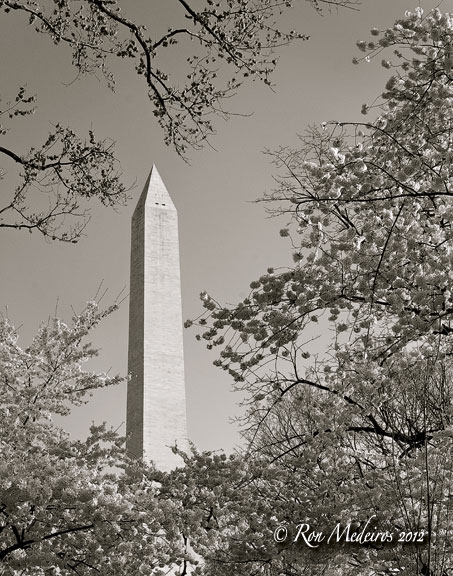 Washington Monument BW
2307
Click on image to enlarge and zoom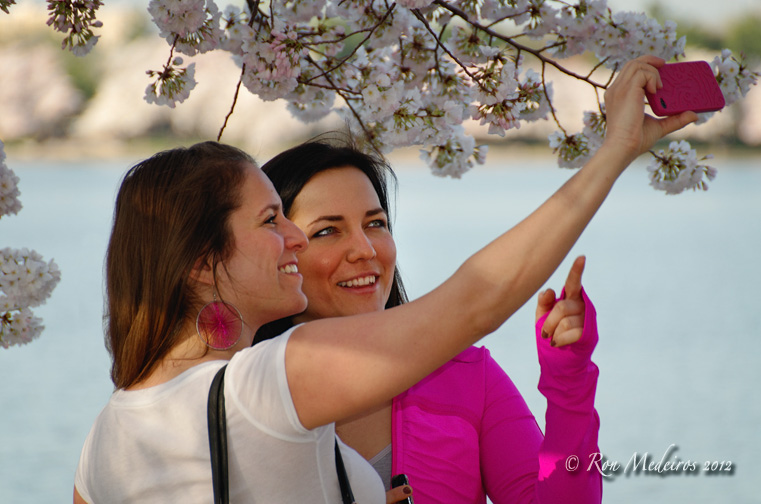 Smart Phone Snapshot
Two friends stop for a quick snapshot under the cherry blossoms.
My 18-200 zoom made it possible to quickly capture this great human interest shot. Candid "street" photography is always a challenge to undertake successfully. Where people are involved, it is difficult to get all of the elements in a given composition to work together. Here we see the rule of thirds at work in a diagonal composition isolated by a very smooth out of focus background. The final and most important element of good facial expressions make this a fine example of portraiture. The 18-200 VR is an amazing do it all lens. The smooth "bokeh" (quality of out of focus background), at this focal length anyway, is as good as it gets.
Image retouched and cropped in Photoshop CS5
Here is the EXIF meta data for those who are interested:
f 5.6 / 250 / ISO 100 @ 200mm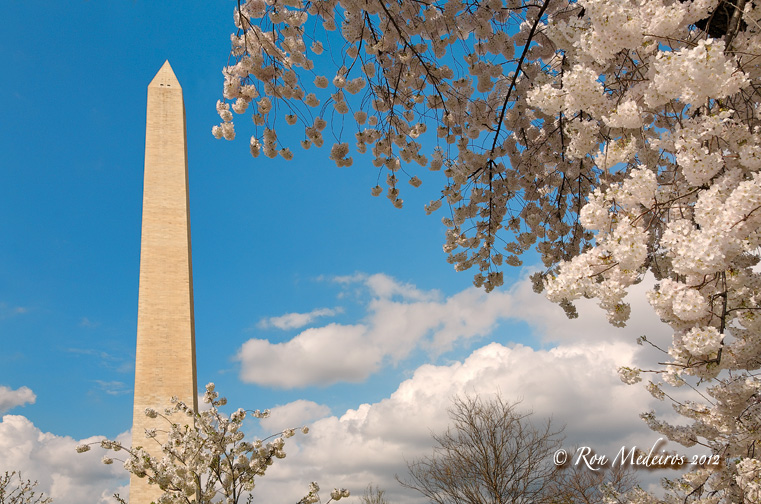 Washington Monument And Blossoms
2402
Mouse over image for black and white rendering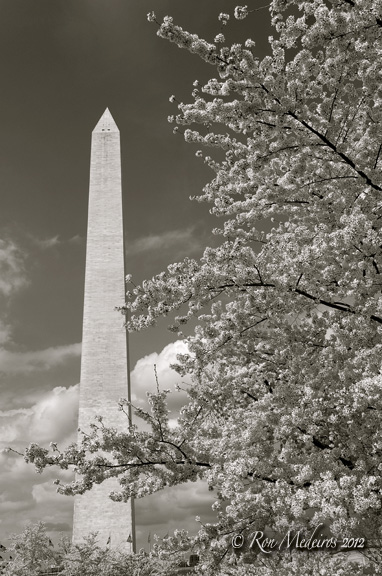 Washington Monument And Blossoms
2410
Mouse over image for color rendering - click to super size and zoom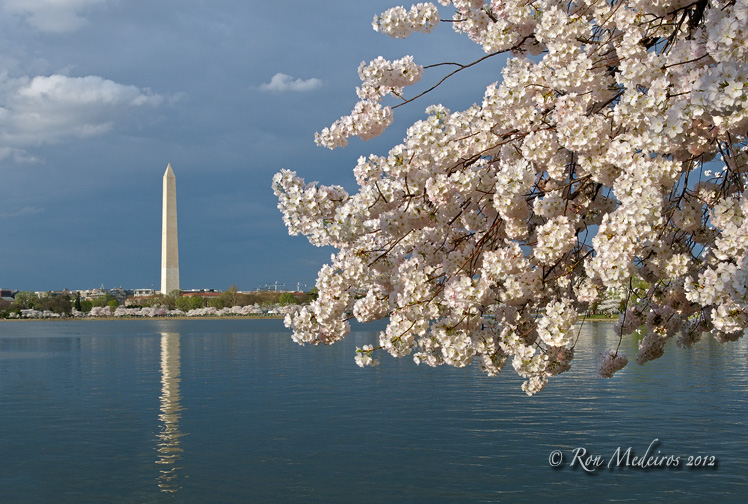 Monument And Blossoms
2461
Late afternoon sun washing over the tidal basin.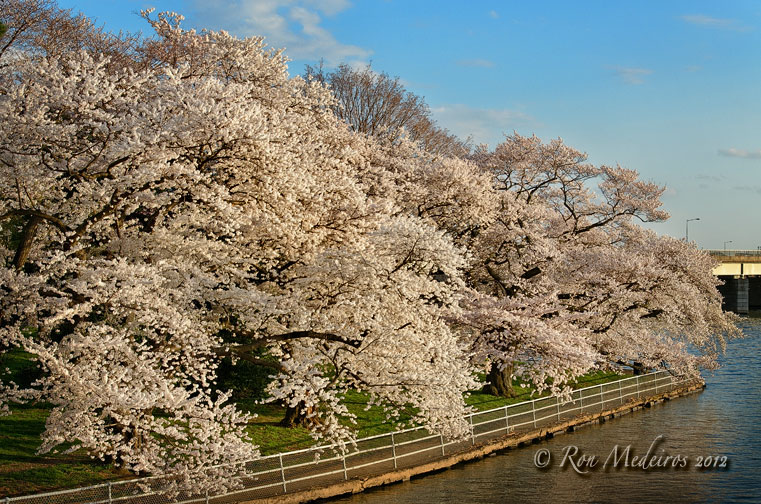 Cherry Blossoms
The blossoms were in their peak bloom due to an early warm spring - made to order weather for the centennial celebration.
Shooting with the Rollei
Mouse over image to get my attention
Shooting with my Rolleiflex in front of the Lincoln Memorial.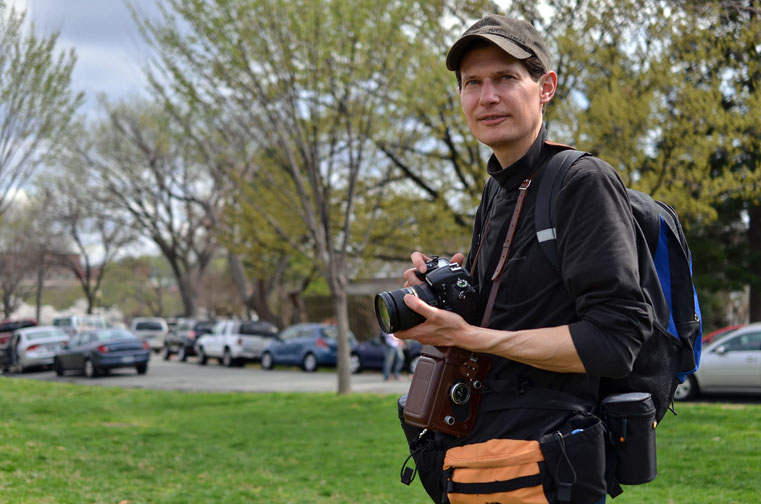 Me In DC
With Mark along for the ride, I am in front of the camera for a change.
Scroll down for a better view of my shooting system.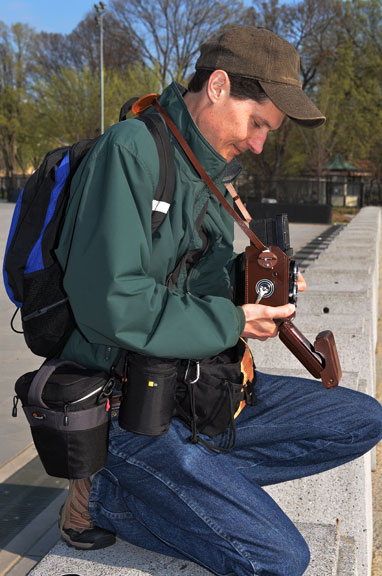 Shooting Gear
For you gear heads out there, this is my basic shooting system for most of the day trip and week long shoots that I do. Waist pack for incidentals and photo essentials such as; memory cards, filters, spare camera battery and charger, the light and compact Nikon SB400 flash, black and white film, and lens cleaning micro fiber cloth. In 2 small lens cases on either side of the waist pack I carry two fast prime Nikon lenses. A 35mm 1.8 G DX and a 50mm 1.8 G, in case an opportunity for human interest photography in available light presents itself. In DX format they have an equivalent focal length of 53mm and 75mm respectively (a normal and short telephoto lens pair.) I also carry my newly acquired Tokina 11-16mm 2.8 ATX ultra wide lens sometimes on a 2nd camera body. I keep my primary camera the D7000 with the 18-200 VR in a Lowepro case (lower left). I usually carry a film camera loaded with b&w film (usually a light weight Minolta Hi-Matic AF-2 35mm) in case I want to make a real silver emulsion image. I use the back pack only when needed to carry food/water and to stash my jacket when it gets too hot. The only thing missing in these photos is my tripod, which I usually bring even when hiking over mountains. I left it home as it would have been too much trouble and weight carrying to DC and back on trains.
DC Metro
My friend and DC guide, Mark, accompanied me on this shoot. Being fellow "Nikonians" we have no problem lugging camera gear around all day just for the fun of it. He knows his way around the metro system and if he had not come along I would probably still be lost somewhere under Washington.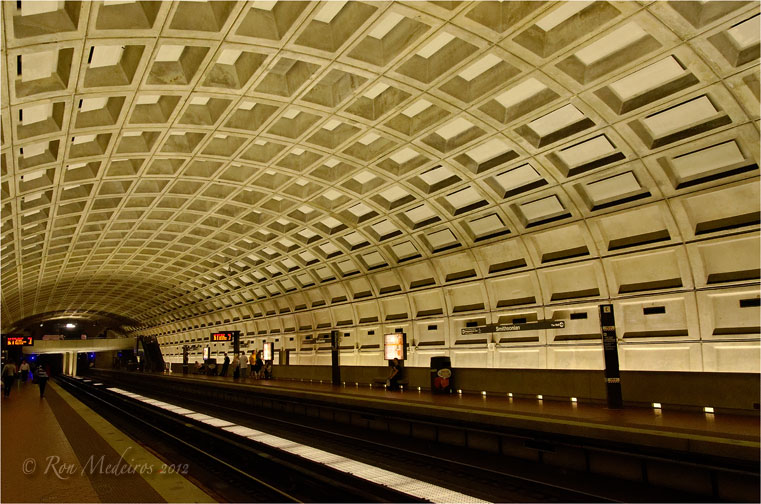 DC Metro Tunnel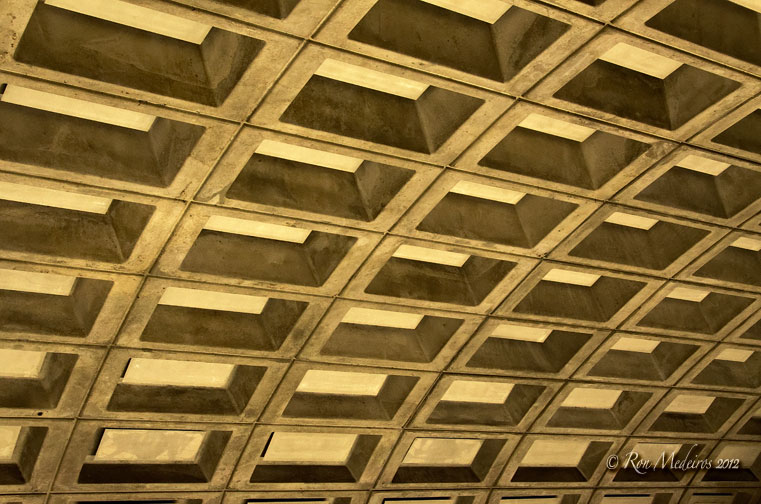 DC Metro Detail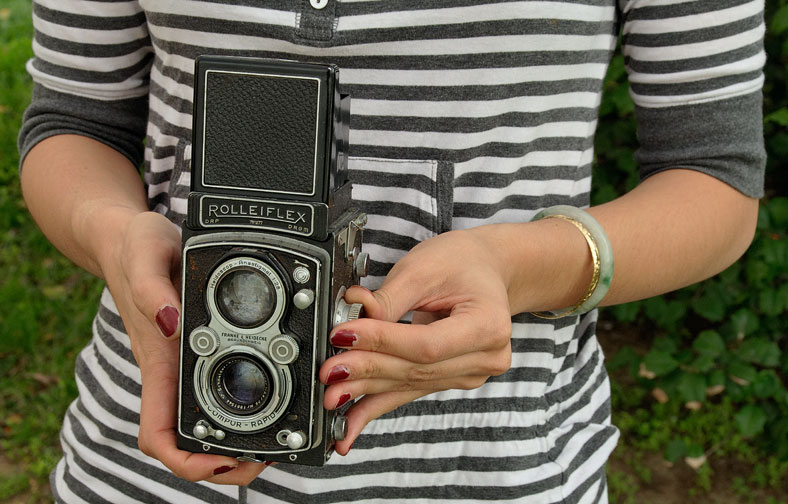 Another Rolleiflex In DC
Later in the afternoon the path around the tidal basin became crowded with thousands of people. As we made our way around the basin we encountered another Rolleiflex. It's owner let me take this quick snapshot. Unlike my Rolleiflex "T", this version had slightly different optics and the more common control knobs on either side of the lenses. As with all twin lens Rolleis, the top lens is the viewing lens and the bottom lens is the taking lens. These cameras, with their tessar lenses, produces sharp and contrasty square format images, on a big 120 film negative. Fully mechanical, Rolleis (w/o light meters) use no batteries. They are designed and made very well and last for decades and decades. Having certain limitations, they are not the most user friendly cameras and were superseded by the more useful and "state of the art" single lens reflex design common today. I still shoot mine for the nostalgic, "fun of it," and for the sparkling detail rich black and white film images it produces. The square format negatives are fun to print in the darkroom (when I can find the time).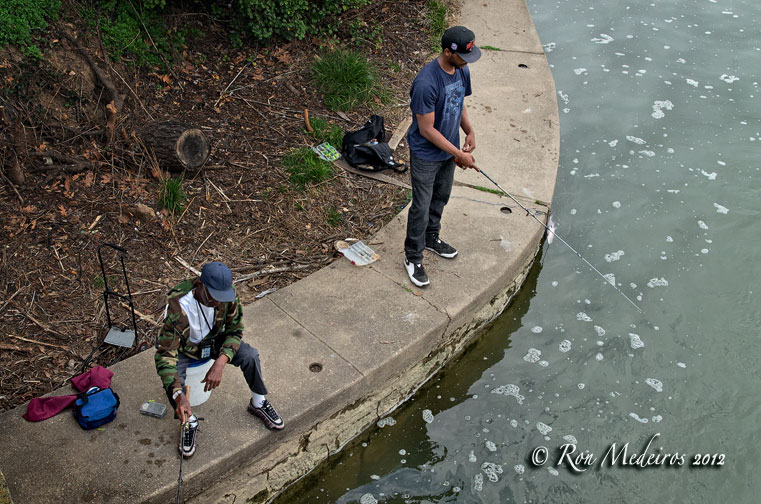 Fishin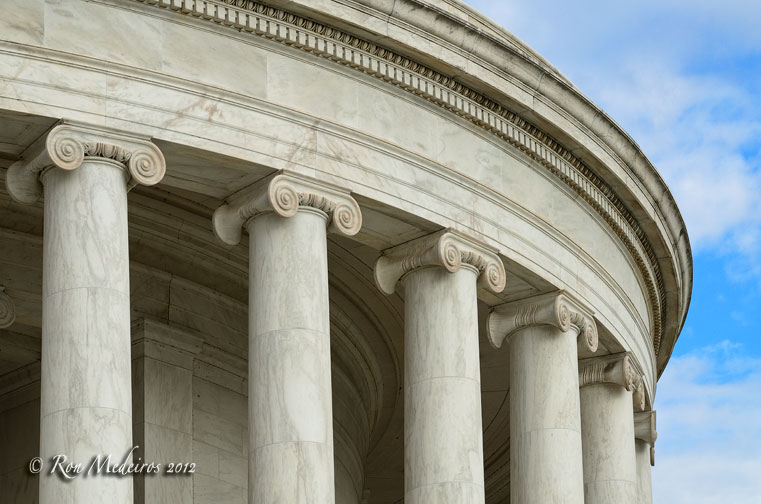 Jefferson Memorial
I took the opportunity to make a few exposures at the Jefferson Memorial. A beautiful marble edifice.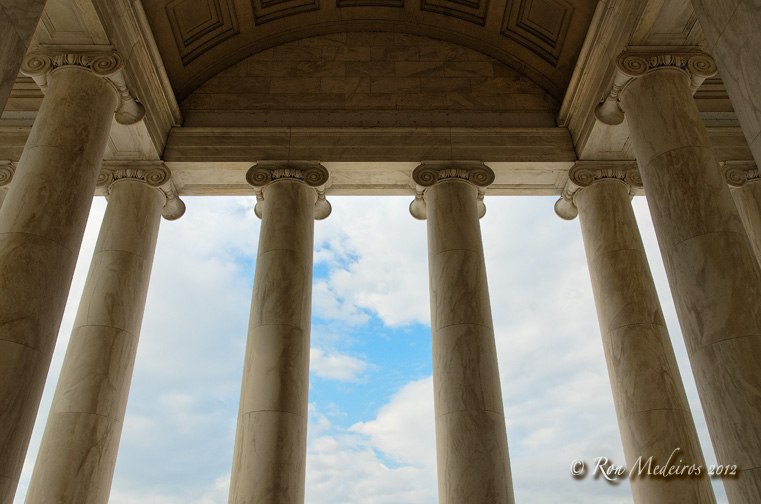 Jefferson Memorial, High Columns
2434
This photograph is a good example of HDR (high dynamic range) photography. This image as with all others in this collection was "roughed out" in DXO 7 (to correct lens distortion and lost shadow detail) and then further reworked in Photoshop CS5. With HDR photography, I personally do not care for tone mapping technique which often produces images that look far too surreal and artificial. I prefer to simply extend the dynamic range from a 12-14 bit RAW file and carefully dodge and burn, or composite two exposures together and blend them as layers. The result is much more realistic. Though I rework my images extensively, in the digital darkroom, I try to preserve a "real photograph" look in all of my images. I do not push it too far in an attempt to force a high end look.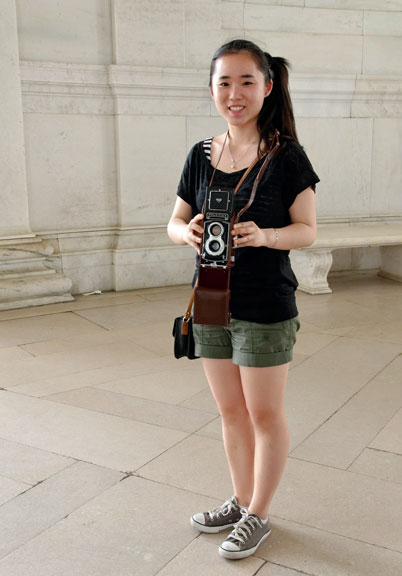 Xi Wang with Rolleiflex
In the Jefferson Memorial I was stopped by a couple and their daughter named Xi who asked me about my Rolleiflex camera. She just loved the camera so I placed it around her neck and opened the waist level finder so she could sample the Rolleiflex experience. I asked her if I could take her picture to post it on my site and she was happy to be featured. I enjoyed conversation with them for a while and was still somewhat surprised by all the attention the camera had drawn. Xi, that camera is definitely you, start saving your dollars and, before too long, you could own your very own Rolleiflex.
This very same thing happened a few hours earlier at the Lincoln Memorial. A mother approached me and told me her daughter loved old film cameras and that she "liked my camera". I let her daughter try it out too. Actually, all day long my Rollei was a point of interest to most people who walked by. It drew a lot of looks and I must have had a dozen people stop me and ask me about the camera. "Wow, what kind of camera is that?" Can you still get film for that?" "What a beautiful Camera?" "Where did you get that camera?" It is a great conversation piece that captures much attention.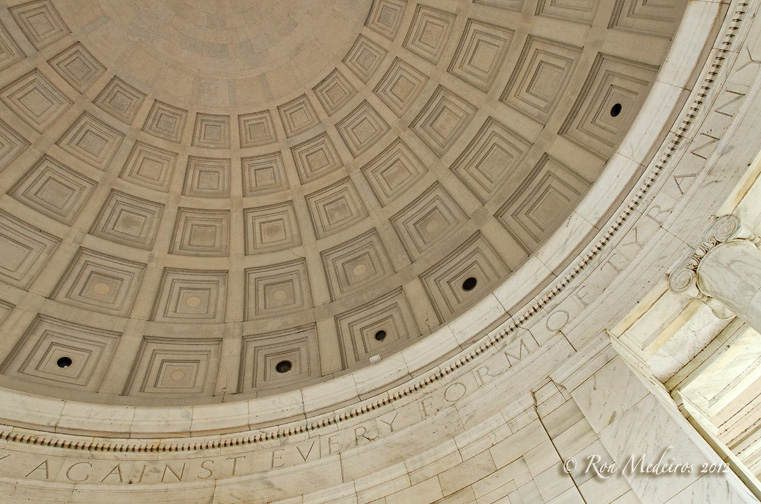 "Against Every Form Of Tyranny"
2432
The dome ceiling of the Jefferson Memorial.
In the battle to overcome tyranny, our founders risked their fortunes, freedoms, and even their heads. Many men suffered, spilled their blood, and lost their lives to secure the liberties that we are loosing today. It is ironic that, in this very district, not far from these words, tyranny is, once again, on the march - with many hailing and lauding it with enthusiastic applause. The two political sides in the world today (and there are, in fact, only two) are not just "a different point of view." They are completely opposing ideologies (in their basic essence) These ideologies have their root in one of two thrones of authority. The Kingdom of God or the kingdom of darkness. They cannot and will not peaceably "coexist". In the end, only one will stand. The greater and the just ideology, that has it's root in God, will ultimately prevail; and the opposing ideology of evil and oppression will be utterly defeated and completely banished forever.
Whenever I find myself in contest with a person who is wholly given over to this opposing ideology, I realize that I am not merely engaging with a difference of opinion, I am being assailed by an ancient ideology from an "old serpent" who would love to overthrow society, destroy mens lives, and turn the world into a wilderness. The kingdom that is behind that ideology is hell bent upon our destruction. It is a kingdom of spiritual tyranny. It is spiritual in nature even though it is being played out and manifested through human means on the political scene.
"that made the world into a wilderness, and destroyed the cities thereof; that opened not the house of his prisoners?"
(Isaiah 14:17)
"For this purpose the Son of God was manifested, that he might destroy the works of the devil."
(1 John 3:8b)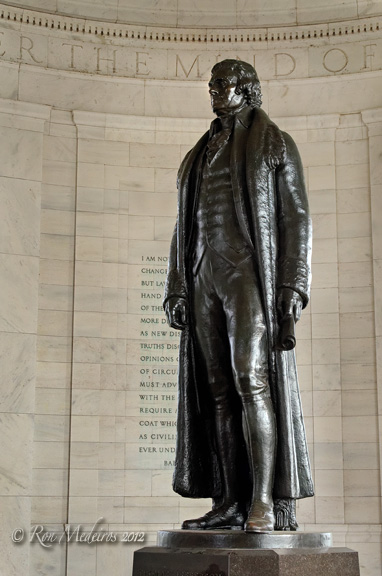 Jefferson
2435
Click on image to enlarge and zoom
Thomas Jefferson, one of our country's founding fathers, was the author of the Declaration of Independence; a Diplomat; Governor of Virginia; Secretary of State; and Third President of the United States. A lover of freedom, he was a brilliant and talented man who's influences did much to define and secure this nation's liberty.
Jefferson was not a deist as is often taught, but he was not a true orthodox Christian either. As brilliant and capable as he was, he was a very poor theologian. His doctrinal positions were much in line with the unitarian view of his day - though he would not have called himself a unitarian. Jefferson referred to himself as a "true" Christian and a disciple of the moral teachings of Christ, but this was only true in his own mind. Like many of his era, he had an extensive Bible knowledge, and strongly acknowledged the existence of God as the creator of all things, but his view of God and the scriptures was fatally flawed. His greatest theological errors were that he did not believe that the Bible was the inspired word of God and even worse he rejected the trinitarian view of God, a cardinal doctrine and necessary belief of the Christian faith. (without which no one can be saved) This is reflected in some of his letters where he argued against the trinitarian view with certain men of God. Jefferson was a naturally minded man that defined truth through human "reason" rather than through faith in the inerrant inspired word of God, as the defining source of truth. (i.e. "we hold these truths to be self evident...") His reliance upon his own human reason left him unable to accept the unreasonable mystery of the inerrant doctrine of the Trinity. His natural powers of reason could only take him so far and no further, but we must remember, it is by faith we understand... Not that we chose to believe something by our own blind leap of faith, but that The Spirit of God gives us the substance, and the evidence, and the full assurance of his faith which enables us to, in fact, believe what is the truth, as revealed by God. This is what faith is.
How important is true faith! It is true faith that leads us into a good and true theology!
"The fear of the Lord is the beginning of knowledge" (Proverbs 1:7a)
ON TO THE LINCOLN MEMORIAL >
1 2